Mulch now, dog age chart, power veggies
This is an archived issue of our Almanac.com Companion email newsletter.
Daily Newsletter for Thursday, July 19, 2018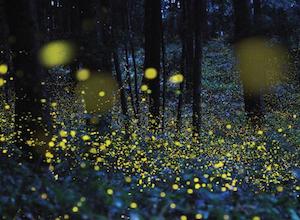 On the warm and perfumed dark
glows the firefly's tender spark.
–Horatio Nelson Powers (1826–90)
Sweet Potato Ice Cream
No-Churn Sweet Potato Ice Cream
Sweet potatoes aren't just for pie or savory sides. One of our favorite ways to use this delicious tuber is in Sweet Potato Ice Cream!
Vern Ader's Weed Spinner
Finally, it's fun and easy to weed!  What's more, dandelions don't stand a chance!
The Weed Spinner is an innovative drill-driven weed removal bit that spins out weeds and their roots in one whirling motion.The action is fast and the result is very satisfying! What's more, there's no kneeling, bending, or getting your hands dirty.
Mulch Your Summer Garden
Mulch to Control Weeds and Save Water
In this short video, see how to properly use mulch to kill weeds and keep plants moist, especially in the hot summer months. Mulch your garden to beat the heat!
Silver Mercury Lantern
Standing almost 7 inches tall, these battery-powered lanterns feature 10 lights with a 6-hour timer. 
Exploring Yellowstone
Yellowstone National Park
Join the Almanac in a coast-to-coast exploration of America's most beloved national parks and historic sites. This time, we visit Yellowstone National Park, where we discover the natural beauty of the park that started it all.
Dragonfly Wooden Night Lights
These highly intricate and detailed night lights were carved with a laser. The craftsmanship is outstanding. Each shade consists of 4 pieces of wood held together with interlocking finger joints. The best part is that the shade hides the bulb, even when viewed from the side. Made in the USA.
How Old is Your Dog?
Dog Age Chart: Dog Years to Human Years
How old is your dog in human years? We used to multiply a dog's age by seven; however, this calculation isn't so cut-and-dried. See our dog calculator and chart to discover your dog's age.
Bee Brand Tote
One side of this cotton bag resembles a vintage seed sack and the other has busy bees.