Garlic harvest, summer chicken, Leo the lion
This is an archived issue of our Almanac.com Companion email newsletter.
Daily Newsletter for Tuesday, July 24, 2018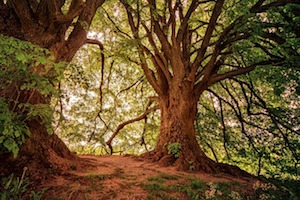 See what delights in sylvan scenes appear!
Descending Gods have found Elysium here.
In woods bright Venus with Adonis stray'd,
And chaste Diana haunts the forest shade.
–Alexander Pope (1688–1744)
More Powdery Mildew Tips
Powdery Mildew Remedies for Plants
One unwelcome visitor to my garden at this time of year is powdery mildew. Here's how to control this plant disease with natural remedies, including a homemade baking soda spray treatment.
All-Natural, DEET-Free Insect Repellent
The Old Farmer's Almanac name is on the bottle. If it doesn't effectively repel ticks, mosquitoes, blackflies, chiggers, and other biting bugs we will give you your money back!
Hydrangea Care
Hydrangeas
With immense flower heads, hydrangeas flaunt an old-fashioned charm in summertime that's hard to resist. While these flowering shrubs are low-maintenance, proper care will keep them blooming. Our Hydrangea Guide provides summer plant care tips for all you need to know about growing hydrangeas—from watering to fertilizing to pruning to winter care.
Farm Sweet Farm Jumbo Coffee Mugs
Large, double-sided, dishwasher-safe mugs. Each mug includes a generously-sized hole that allows coffee to pour out when the mug is tilted.
Leo the Lion
Leo Zodiac Sign
Happy birthday, Leo! The Zodiac Sign for Leo (July 23 to August 22) is symbolized by the noble lion, depicted with its mane and spine, in addition to two halves of a heart. Leos are courageous, passionate, exuberant, and adventurous. Learn more.