Powdery mildew, herbal folklore, fridge dill pickles
This is an archived issue of our Almanac.com Companion email newsletter.
Daily Newsletter for Monday, August 27, 2018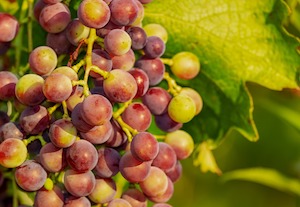 BESIDE the country road with truant grace
Wild carrot lifts its circles of white lace.
From vines whose interwoven branches drape
The old stone walls, come pungent scents of grape.
–Katharine Lee Bates (1859–1929)
Monday, August 27, 2018
239th day of the year
Tom Ford (fashion designer) was born on this day in 1961.
Stevie Ray Vaughan (blues musician) died on this day in 1990.
Powdery Mildew Remedies
Powdery Mildew
Wondering about that white fungus on your plants? The fungal disease powdery mildew affects a wide variety of plants and takes away a plant's nutrients. This causes the plant to bloom less and become weaker.
Eat Colorful Plants
Eat the Rainbow of Fruit and Vegetables for Health
We've all been told to "eat your veggies." Let's advance that to say, "eat your colorful veggies." The pigments of vegetables and fruit are amazing at protecting plants—and us! Each plant color offers a different health benefit, so you need variety. We have a handy chart so that you can simply select produce from four different color groups to improve your body's health. Isn't nature amazing? 
Tomato Recipes!
Best Tomato Recipes for the Height of Season
Let's make the most of summer's tomato harvest!  We've got some fresh tomato recipe ideas right here—from tantalizing tomato sauce to fried green tomatoes to super salsa!
Try the Weed Spinner!
All you need is a drill and weeds and their roots are gone in one quick spin! The action is fun, fast, and satisfying! What's more, there's no kneeling, bending, or getting your hands dirty. Expect your neighbors to get curious and want to try the Weed Spinner, too. This back-saving drill bit was invented by retired school teacher Vern Ader and we thank him. 
Refrigerator Pickles
Refrigerator Dill Pickles
Looking for an easy dill pickle recipe? These crunchy, sour, and delightfully dilly Refrigerator Dill Pickles are the way to go.
2019 MOON WALL CALENDAR
Want to enjoy the beautiful Moon year-round? Check out our 2019 Moon Wall Calendar that is loaded with amazing lunar lore, facts, and photos!   
Herbal Folklore
Herbal Folklore and Old-Fashioned Tips
We all know that herbs make great companions in the garden and kitchen. Herbs also have a long history as a natural remedy—and many other more unusual uses, too! Read on…