Powdery mildew, herbal folklore, fridge dill pickles
This is an archived issue of our Almanac.com Companion email newsletter.
Daily Newsletter for Monday, August 27, 2018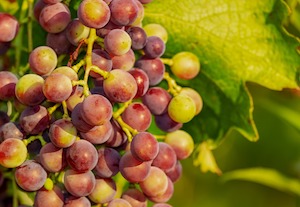 BESIDE the country road with truant grace
Wild carrot lifts its circles of white lace.
From vines whose interwoven branches drape
The old stone walls, come pungent scents of grape.
–Katharine Lee Bates (1859–1929)
Powdery Mildew Remedies
Powdery Mildew
Wondering about that white fungus on your plant? The fungal disease powdery mildew is a common problem in gardens, infecting a wide variety of plants and reducing the quality and quantity of flowers and fruit.
Eat Colorful Plants
Eat the Rainbow of Fruit and Vegetables for Health
Ever heard of "eating a rainbow" of vegetables and fruit? Nature's pigments are amazing at protecting plants—and us! Each plant color offers a different health benefit, so you need variety. We have a handy chart so that you can eat from four different color groups to improve your body's health. If you are a gardener, consider choosing plants from each color category, as each one offers unique benefits for your health.
Tomato Recipes!
Best Tomato Recipes for the Height of Season
Let's make the most of summer's tomato harvest!  We've got some fresh tomato recipe ideas right here—from tantalizing tomato sauce to fried green tomatoes to super salsa!
Vern Ader's Weed Spinner
Finally, it's fun and easy to weed!  What's more, dandelions don't stand a chance!
The Weed Spinner is an innovative drill-driven weed removal bit that spins out weeds and their roots in one whirling motion.The action is fast and the result is very satisfying! What's more, there's no kneeling, bending, or getting your hands dirty.
Refrigerator Pickles
Refrigerator Dill Pickles
Looking for an easy dill pickle recipe? These crunchy, sour, and delightfully dilly Refrigerator Dill Pickles are the way to go.
2019 MOON WALL CALENDAR
Want to enjoy the beautiful Moon year-round? Check out our 2019 Moon Wall Calendar that is loaded with amazing lunar lore, facts, and photos!   
Herbal Folklore
Herbal Folklore and Old-Fashioned Tips
We all know that herbs make great companions in the garden and kitchen. Herbs also have a long history as a natural remedy—and many other more unusual uses, too! Read on…