Apple cider vinegar, avoid bulb problems, indoor herbs
This is an archived issue of our Almanac.com Companion email newsletter.
Daily Newsletter for Monday, September 10, 2018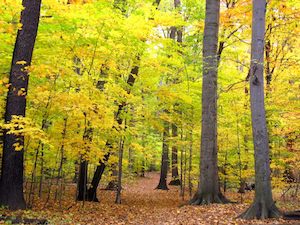 September strews the woodlot o'er
With many a brilliant color;
The world is brighter than before,
Why should our hearts be duller?
–Thomas W. Parsons (1819–92)
Growing Herbs Indoors
Growing Herbs Indoors
Even just a few pots of herbs indoors can supply you with wonderful flavors at your fingertips year-round. All you need is a sunny windowsill or grow lights. Here are seven herbs that will grow well indoors.
Avoid Bulb Problems Now
15 Flower Bulb Growing Tips (to Avoid Bulb Problems)
We adore spring bulbs (which you plant in the fall!). The flowers return year after year, delighting us with color after a long winter. However, we know that some people wonder why all of their bulbs did not come up. Here are 15 tips on growing bulbs—and avoiding bulb problems later.
Christmas Aprons
These aprons are 100% cotton for easy care and have bold holiday prints. Impress your guests! Supplies are limited.
When to Pick Each Veggie
When to Harvest Vegetables and Fruit
How do you know when fruit and vegetables are ready to pick? Whether you are a gardener or a grocery shopper, this harvest guide will help you recognize when your summer fruit and vegetables are at the peak of flavor.
Apple Cider Vinegar Tonic
How to Make Fire Cider
Fire cider is a traditional tonic made with herbs stewed in apple cider vinegar.  It's been used for generations as a remedy to ward off sickness and promote health. See how to make fire cider!
The 2020 Old Farmer's Almanac Everyday Calendar
Nicely illustrated page-a-day desk calendar that makes a great stocking stuffer! Start each day with a tidbit of Almanac fun: weather wisdom, quirky historical facts, useful hints, and time-tested proverbs.