Equinox facts vs fiction, late summer pasta, harvest guide
This is an archived issue of our Almanac.com Companion email newsletter.
Daily Newsletter for Thursday, September 20, 2018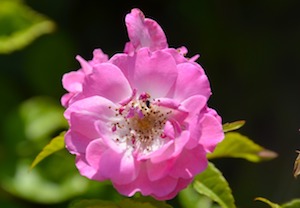 Over! the sweet summer closes,
The reign of the roses is done.
–Alfred, Lord Tennyson (1809–92)
Thursday, September 20, 2018
263rd day of the year
Kristen Johnston (actress) was born on this day in 1967.
Polly Bergen (actress) died on this day in 2014.
Equinox Facts and Fiction
The Old, Misunderstood Equinox
Can you balance an egg on the equinox? Are days and nights truly equal? Bob separates autumnal equinox facts from fiction.
When to Harvest Guide
When to Harvest Vegetables and Fruit
How do you know when fruit and vegetables are ready to pick? Whether you are a gardener or a grocery shopper, this harvest guide will help you recognize when your summer fruit and vegetables are at the peak of flavor.
Try the Weed Spinner!
All you need is a drill and weeds and their roots are gone in one quick spin! The action is fun, fast, and satisfying! What's more, there's no kneeling, bending, or getting your hands dirty. Expect your neighbors to get curious and want to try the Weed Spinner, too. This back-saving drill bit was invented by retired school teacher Vern Ader and we thank him. 
Shrubs to Plant in Fall
Best Shrubs for Fall Planting
The gardening season is winding down. Last call for filling in those bare spots in your landscaping with a shrub or two.
Late Summer Pasta
Hearty Vegetable Pasta
This Hearty Vegetable Pasta is simple and fresh, using vegetables straight from the garden or market—including zucchini, peppers, and tomatoes.
Sun Face Kinetic Wind Stake
Bring dramatic excitement to your garden with this extra-large kinetic wind stake featuring a 32-inch-wide Sun fan. Beautifully hand-painted metal Sun rays dazzle as the double-blade design spins in opposite directions, creating a mesmerizing effect. Video of the wind stake in action is available.
Freezing Peppers
Freezing Peppers
Peppers are such a lovely fruit. They come in many different colors, sizes, and degrees of heat. Plus, they're easy to freeze to use all winter. See how.