Fall forecast (early snow?), new foliage forecast!
This is an archived issue of our Almanac.com Companion email newsletter.
Daily Newsletter for Sunday, September 23, 2018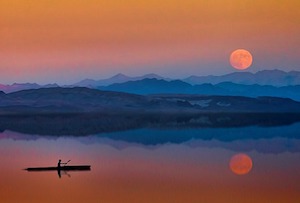 The red light from the harvest Moon
Illumes the stilly places;
The fleecy islands cast their shapes
Above the forest spaces.
–Stephen Henry Thayer (1839–1919)
Sunday, September 23, 2018
266th day of the year
Chi McBride (actor) was born on this day in 1961.
Mary Frann (actress) died on this day in 1998.