Michaelmas tomorrow, apple butter, temperature lows for crops
This is an archived issue of our Almanac.com Companion email newsletter.
Daily Newsletter for Friday, September 28, 2018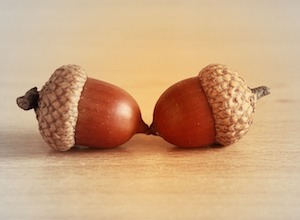 If Michaelmas brings many acorns,
Christmas will cover the fields with snow.
–Weather proverb
What is Michaelmas (Tomorrow)?
Quarter Days and Cross-Quarter Days
Halloween has ancient origins. For the Celts, it was a cross-quarter day called Samhain ("summer's end") which fell between the fall equinox and winter solstice. Learn about the quarter days and cross-quarter days and how they've influenced our modern calendar.
Almanac Field to Fork Cookbook
A collection of more than 120 mouthwatering recipes from The Old Farmer's Almanac, plus kitchen tips and food facts and folklore. 
Plant Crocus for Spring Color
Crocuses
When it seems like winter will never lose its icy grip, the dainty crocus pushes through the snow to put on a show of colorful revival. Plant this perennial flower in the fall for an early spring delight!  Here's how to plant, grow, and care for crocuses in your garden!
2019 MOON WALL CALENDAR
Want to enjoy the beautiful Moon year-round? Check out our 2019 Moon Wall Calendar that is loaded with amazing lunar lore, facts, and photos!   
Apple Butter Recipe
Apple Butter
Make your own apple butter with this simple recipe. Apple butter is a delicious alternative to peanut butter, and a great way to use fresh apples.
Almanac Barn Night Light
The roof features The Old Farmer's Almanac logo in a way reminiscent of the painted barn advertisements of the early to mid–20th century for soft drinks and roadside attractions.
Making an Herbal Tincture
How to Make an Herbal Tincture
Herbal tinctures are age-old remedies that can help soothe and heal whatever might ail you. Here's how to make herbal tinctures using plants from your garden.