Happy Halloween! Tonight's weather, deer-resistant plants
This is an archived issue of our Almanac.com Companion email newsletter.
Daily Newsletter for Wednesday, October 31, 2018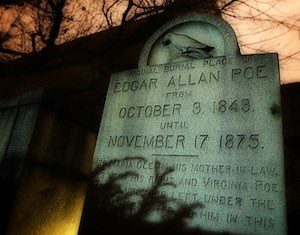 Be silent in that solitude,
Which is not loneliness—for then
The spirits of the dead, who stood
In life before thee, are again
In death around thee, and their will
Shall overshadow thee; be still.
–Edgar Allan Poe (1809–49)
Happy Halloween!
Halloween 2019
Halloween always falls on the 31st of October. What is Halloween really about? How did it get started? Here's a brief history—it may surprise you! 
Halloween Forecast
7-Day Weather Forecast
Short-term 7-day forecast for thousands of locations in the U.S. and Canada. Includes current conditions, and radar and temperature maps.
Alpaca Fleece Socks
The cure for cold feet! Alpaca socks are soft, luxurious, and warmer than sheep's wool. Choose from active outdoor and extreme cold styles.
Deer-Resistant Plant List
Deer-Resistant Plants
Oh, dear! Do you have problems with deer eating your garden plants? See our list of deer-resistant plants, flowers, and shrubs to keep the hungry herds away from your garden!
Wine Bottle Lights
Create ambient lighting from an empty wine bottle! Choose a bottle from a special celebration or because of its interesting shape and color. 
Easy, Last-Minute Recipe
Halloween Pretzel Treat
Our fellow Almanac editor makes these mini chocolate pretzels treats topped with M&Ms every holiday and we can't wait! 
Scented Room Sprays
Change the ambiance of a room in an instant with our lusciously fragrant room sprays!
A Strange, Tragic Story
The Man Who Cried for Everyone
The following is an account of a strange occurrence at Peoria State Hospital in Bartonville, Illinois, by the late George Zeller, superintendent of the asylum at the time (1910).