Cranberry sauce, Pilgrim turkey recipe, wishbone lore
This is an archived issue of our Almanac.com Companion email newsletter.
Daily Newsletter for Monday, November 19, 2018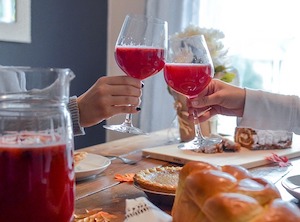 Giving has many faces: It is loud and quiet,
Big, though small, diamond in wood-nails.
Its story is old, the plot worn and the pages too,
But we read this book, anyway, over and again.
–Alberto Ríos (b. 1952)
Pilgrim's Thanksgiving Turkey
Pilgrim's Thanksgiving Turkey
This absolutely wonderful Pilgrim's Thanksgiving Turkey recipe won first prize in The 1988 Old Farmer's Almanac Recipe Contest.
SPONSORED
Millie's Pierogi
Millie's Pierogi are handmade using the finest-quality ingredients. One dozen delicious pierogi are nestled in a tray, making a one-pound package of pure enjoyment! Order today!
Cranberry Sauce
Cranberry Sauce
This basic cranberry sauce recipe has a perfect balance of sweet and tart.
Forecasting With a Wishbone
Forecasting Weather With a Goose Bone
Can you really predict weather with a goose bone? Back around the turn of the last century, in the days before the National Weather Service, the so-called goose bone method was a famous weather-forecasting technique.
Crossbody Purses for Cell Phones by Chala
Top-seller! Available in different nature-inspired designs! Perfect size for carrying most cell phones, cash, ID, and a few credit cards. Very nicely made and features adjustable straps.
Weather on the First Thanksgiving
Weather on the First Thanksgiving
Thanksgiving travel always makes weather a big concern, so I thought it might be fun to write about weather on the very first Thanksgiving. Ironically, we know more about the weather than the date itself!
Grab a Second Serving!
The Thanksgiving Meal Is Packed With Vitamins
When you think of Thanksgiving, what foods come to mind? Turkey? Sweet potatoes? Cranberries? Pumpkin? Brussel sprouts? All of these colorful foods, in moderation, are not only delicious, but healthy and nutritious! Here are the top Thanksgiving picks …
Paine's Balsam Fir Incense
The fragrant tips of the balsam fir tree give this incense its warm, woodsy, forest aroma. It has become an endearing winter tradition for many families. Includes 24 logs and a holder. Grown and made in Maine. Makes a unique hostess gift or stocking stuffer.