Thanksgiving storms, colonial and modern side dishes, creamy pumpkin pie
This is an archived issue of our Almanac.com Companion email newsletter.
Daily Newsletter for Tuesday, November 20, 2018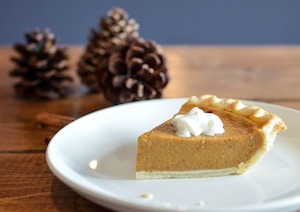 Ah! on Thanksgiving day, when from East and from West,
From North and from South comes the pilgrim and guest . . .
What moistens the lip and what brightens the eye?
What calls back the past, like the rich Pumpkin pie?
–John Greenleaf Whittier (1807–92)
Colonial and Modern Sides
Best Thanksgiving Side Dish Recipes
Thanksgiving side dishes make the meal! We have some delicious options—from the historically-inspired to modern-day classics to vegetarian options. Make the most of the harvest bounty!
SPONSORED
Looking for American-Made Gifts?
Look no more, North Country Wind Bells® has been creating quality made wind bells in the state of Maine since 1975. With 6 collections, 64 melodies, and over 100 personalizing options, you can find that perfect American-made gift.
Thanksgiving Storms
Historic Thanksgiving Storms
Has wild weather ever disrupted your Thanksgiving? Here are 5 of the biggest Thanksgiving storms in American history!
How to Care for Linens
How to Care for Table Linens
After a special holiday feast or dinner, how do you care for your table linens? Here are five simple tips to keep your table linens looking their best.
Crossbody Purses for Cell Phones by Chala
Top-seller! Available in different nature-inspired designs! Perfect size for carrying most cell phones, cash, ID, and a few credit cards. Very nicely made and features adjustable straps.
Slow Down This Thanksgiving
Thanksgiving: Slow Food, Slow Down
Everyone has heard of fast food but Thanksgiving is a time to think about slow food. No, I don't mean the bad service you get at the favorite greasy spoon.
Paine's Balsam Fir Incense
The fragrant tips of the balsam fir tree give this incense its warm, woodsy, forest aroma. It has become an endearing winter tradition for many families. Includes 24 logs and a holder. Grown and made in Maine. Makes a unique hostess gift or stocking stuffer.