Turkey trivia, perfect apple pie, table set-up tips, carving tricks
This is an archived issue of our Almanac.com Companion email newsletter.
Daily Newsletter for Wednesday, November 21, 2018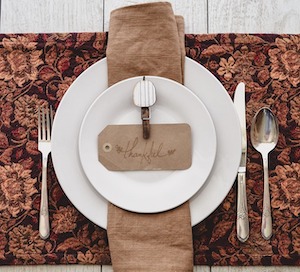 Bring forth the harp, and let us sweep its fullest, loudest string.
The bee below, the bird above, are teaching us to sing
A song for merry harvest; and the one who will not bear
His grateful part partakes a boon he ill deserves to share.
–Eliza Cook (1818–89)
Turkey Table Talk
Turkey Trivia
It's time for turkey trivia! Can turkeys fly? What's a baby turkey called? Impress your Thanksgiving guests with these turkey facts!
SPONSORED
Are you looking for the perfect holiday gift?!
Your search should seriously end with Happy Gardens! Their products are unique and they are individually handcrafted! This isn't your made in China cheap product! Check out our website! We have the cutest stuff for the garden or bird lover in your family!
Happy Gardens is offering a Special 20% off for all of our Almanac readers! Use promo code: Almanac20 at checkout!
Godmother of Thanksgiving
Sarah Josepha Hale: Godmother of Thanksgiving
Happy Thanksgiving! While you are being grateful for your food, friends, and family, take a little time to remember Sarah Josepha Hale, who helped make this national day of thanks possible. 
Table Setting Diagram
How to Set a Table | Table Setting
Setting the table isn't as difficult as it may initially seem. The following diagram shows a full-blown table setting for a special dinner party. Adjust it as necessary to fit your menu.
Perfect Apple Pie
Perfect Apple Pie
Looking for the best apple pie recipe—the one that Mom used to make? This is it!
Crossbody Purses for Cell Phones by Chala
Top-seller! Available in different nature-inspired designs! Perfect size for carrying most cell phones, cash, ID, and a few credit cards. Very nicely made and features adjustable straps.
Carving the Turkey Right
How to Carve a Turkey
Get a quick refresher on how to carve the turkey before placing it on the table. This is the easiest and most efficient way to carve the big bird for your feast.
Wooden Wing Bookmarks
Made in Vermont from a very thin maple veneer that won't damage book bindings. Choose from bald eagles, barred owls, great blue herons, ospreys, peregrine falcons, snowy owls, cardinals, eastern bluebirds, and hummingbirds.