What weather sayings mean, cactus, beef kabobs
This is an archived issue of our Almanac.com Companion email newsletter.
Daily Newsletter for Monday, November 26, 2018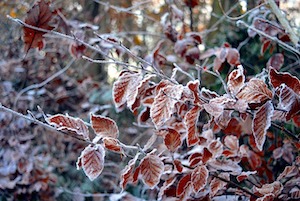 The hoar-frost gathered, o'er each leaf and spray
Weaving its filmy network; thin and bright.
–Sarah Helen Whitman (1803–78)
What Weather Proverbs Mean
Weather Sayings and Their Meanings
Ever heard the saying, "Red sky at night, sailor's delight"? Long before meteorologists reported the weather, people made forecasts based on their observations of the sky, animals, and nature. Here are some weather sayings—and what they mean.
SPONSORED
Are you looking for the perfect holiday gift?!
Your search should seriously end with Happy Gardens! Their products are unique and they are individually handcrafted! This isn't your made in China cheap product! Check out our website! We have the cutest stuff for the garden or bird lover in your family! Happy Gardens is offering a Special 20% off for all of our Almanac readers! Use promo code: Almanac20 at checkout!
Holiday Cactus Care
Christmas Cactus, Thanksgiving Cactus and Easter Cactus
Is your Christmas Cactus blooming in November? You probably have a Thanksgiving Cactus! Yes, there are multiple holiday cacti (including an Easter cactus). Here's the difference—plus, tips on how to care for your holiday cactus to keep it blooming.
Beef Kabobs
Beef Kabobs
This is one of our favorite steak recipes! These Beef Kabobs soak in an easy, homemade marinade that adds flavor and zest.
SPONSORED
Looking for the perfect gardening gift?
Burpee's 2018 Holiday Gift Guide. Whether you are looking for yourself or someone special, you can find the perfect gardening gift at Burpee.com. Check out our great selection of Ornaments & Decorations, Gardening Supply Gifts, Amaryllis, Seeds and more.
Taller-Than-Tall Tales
Tall Tales and Fish Stories
Through the years, we've heard yarns that take the cake, but these tall tales took the prize—first, second, and third prizes—in our 1984 Essay Contest based on the theme "The Tallest Tale I Ever Heard."
Paine's Balsam Fir Incense
The fragrant tips of the balsam fir tree give this incense its warm, woodsy, forest aroma. It has become an endearing winter tradition for many families. Includes 24 logs and a holder. Grown and made in Maine. Makes a unique hostess gift or stocking stuffer.