Follow the Moon, Christmas stollen, making wreaths
This is an archived issue of our Almanac.com Companion email newsletter.
Daily Newsletter for Friday, December 7, 2018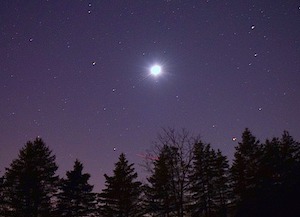 "Whatever causes night in our souls may leave stars."
―Victor Hugo (1802–85)
Follow the Moon This Weekend
Sky Map (Star Chart): December 2018
See this printable sky map for December 2018 to navigate the skies! This month, we let the Moon guide us through some of the best starry sights in the winter sky.
SPONSORED
No pipes to freeze.
With no water and drains required, there are no pipes to freeze during the cold winter months. Learn more about Incinolet and change the way you think about toilets.
Christmas Stollen
Christmas Stollen
A lovely version of an old favorite. Decorate with whole candied cherries, and use other candied fruit pieces to make leaves and stems.
Pewter Zipper Pulls
Great for fleece coats and backpacks! Pewter zipper pulls are fun and convenient!  A stylish accessory that is also helpful for arthritic or small hands. Made in Vermont.
George's Eggnog Recipe
George Washington's Christmas Eggnog
Here's a recipe for Christmas Eggnog from our first president, in the exact words as they were written by George Washington himself. Our favorite instruction is the last one: "Taste Frequently."
Crossbody Purses for Cell Phones by Chala
Top-seller! Available in different nature-inspired designs! Perfect size for carrying most cell phones, cash, ID, and a few credit cards. Very nicely made and features adjustable straps.