St. Lucia buns, year's best meteor shower, mistletoe
This is an archived issue of our Almanac.com Companion email newsletter.
Daily Newsletter for Wednesday, December 12, 2018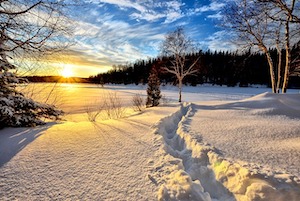 Lucy light, Lucy light,
shortest day and longest night.
–Proverb
St. Lucia's Day Buns
St. Lucia Buns


These saffron-seasoned sweet buns are traditionally served the morning of St. Lucia's Day—which always falls on December 13. Find out more about St. Lucia—and the recipe for St. Lucia Buns.
Christmas Appetizers
Christmas Appetizer Recipes
Ho, ho, ho! Here are 12 of our favorite Christmas appetizer recipes. Whether it's classic deviled eggs or shrimp cocktail, find some great ideas that range from appetizing plates to elegant hors d'oeuvres.
Crossbody Purses for Cell Phones by Chala
Top-seller! Available in different nature-inspired designs! Perfect size for carrying most cell phones, cash, ID, and a few credit cards. Very nicely made and features adjustable straps.
Dragonfly Tea Infuser
A great gift for the tea drinker. Enough loose tea fits in the stainless steel mesh ball for a pot, or use less for a cup. Handmade in Vermont from fine pewter.
Meaning of Christmas
Christmas Day 2019
Christmas occurs on a Wednesday this year. Discover why we celebrate Christmas Day on December 25, the symbols of Christmas, and a brief history of Christmas. Plus, let's bring Christmas alive with recipes, crafts, poetry, and customs from around the world!