2018's brightest comet, wassail, candy cane bark
This is an archived issue of our Almanac.com Companion email newsletter.
Daily Newsletter for Friday, December 14, 2018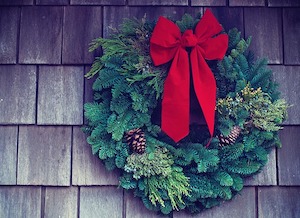 Oh! Christmas wreath upon the wall,
'Neath memory's tender spell
A wondrous charm doth o'er thee fall,
And round thy beauty dwell.
–Anna de Brémont (1864–1922)
2018's Brightest Comet
2018's Brightest Comet Comes Closest to Earth December 16
Comet 46P/Wirtanen is 2018's brightest comet and comes closest to Earth on December 15–16, 2018—this weekend! As awesome as they can be, you can't trust comets. We can always predict where they'll be, but not how they will react with the Sun's energy. So, the question is: Will it...
Candy Cane Bark
Candy Cane Bark
Spread holiday cheer with this easy candy cane bark recipe. You can swap the white chocolate and dark chocolate amounts if you desire—it is foolproof!
Crossbody Purses for Cell Phones by Chala
Top-seller! Available in different nature-inspired designs! Perfect size for carrying most cell phones, cash, ID, and a few credit cards. Very nicely made and features adjustable straps.
Go Wassailing!
Traditional Wassail
For centuries, going back to Anglo-Saxon times, holiday revelers have wished each other "Wes hal!"—Be Whole!—while sharing this drink.
Solar-Powered Decorative Lighting
MOTHER'S DAY GIFT IDEA! By day, these are an artful addition to the garden. By night, they impress with a stunning display of color and light. Check out our large selection.
Toiletries from the Pantry!
Homemade Shampoos, Toothpaste, & Deodorant
We cook what we eat. So, why not try whipping up the products that get absorbed by your skin? Here are recipes for homemade toiletries including toothpaste, deodorant, shampoos, and more. Using pantry ingredients, they're safe, fun, and easy on the wallet!