When seasons start, 4 holiday pies, chestnuts
This is an archived issue of our Almanac.com Companion email newsletter.
Daily Newsletter for Wednesday, December 19, 2018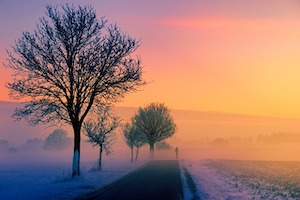 Late lies the wintry sun a-bed,
A frosty, fiery sleepy-head;
Blinks but an hour or two; and then,
A blood-red orange, sets again.
–Robert Louis Stevenson (1850–94)
Wednesday, December 19, 2018
353rd day of the year
Criss Angel (illusionist) was born on this day in 1967.
Hope Lange (actress) died on this day in 2003.