When seasons start, 4 holiday pies, chestnuts
This is an archived issue of our Almanac.com Companion email newsletter.
Daily Newsletter for Wednesday, December 19, 2018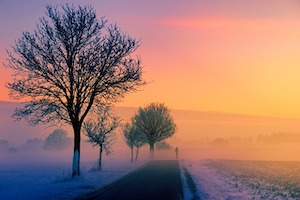 Late lies the wintry sun a-bed,
A frosty, fiery sleepy-head;
Blinks but an hour or two; and then,
A blood-red orange, sets again.
–Robert Louis Stevenson (1850–94)
When Do Seasons Start?
When Do the Seasons Start in 2020?
When do all of the four seasons—fall, winter, spring, and summer—start and end? Find your equinox and solstice dates for 2020 and 2021—plus, learn the difference between an astronomical season and a meteorological season.
Peel Chestnuts, Not Your Thumbs
How to Peel a Chestnut
Here's how to peel a chestnut—without cutting off your thumb!
4 Holiday Pies
4 Delicious Holiday Pie Recipes
For many holiday dinners, the pies take center stage. Our four seasonal pies—apples, cranberries, pumpkins, pecans—are not mimicking traditional desserts, but cast in new roles with our foolproof, fail-safe pie pastry.
Holiday Clean Now
Holiday Kitchen Cleaning Checklist
Here are some holiday kitchen cleaning tips because, at this time of year more than any other, the kitchen is the focus of frenzied activity. Around big holidays, it's important to remember to take deep breaths, relax, and have fun.
2019 MOON WALL CALENDAR
Want to enjoy the beautiful Moon year-round? Check out our 2019 Moon Wall Calendar that is loaded with amazing lunar lore, facts, and photos!