Solstice plants, roast goose, real gingerbread
This is an archived issue of our Almanac.com Companion email newsletter.
Daily Newsletter for Thursday, December 20, 2018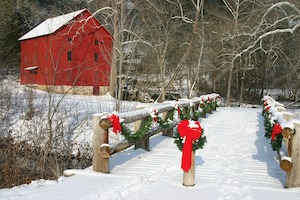 Christmas is coming, the geese are getting fat,
Please to put a penny in the old man's hat;
If you haven't got a penny, a ha'penny will do,
If you haven't got a ha'penny, God bless you!
–Beggar's rhyme
Plants of the Winter Solstice
Plants of the Winter Solstice
Many trees and plants were important to the celebration of the winter solstice (on December 21) both as symbols and as decorations. Find out their meaning …
Buffets: Easy & Relaxed
How to Set Up a Buffet Table
For stress-free holiday entertaining, set up a buffet table. Guests can mingle instead of being stuck in their seat, the host doesn't have to hop up and down to wait on them, and everyone has freedom to eat what and when they wish! Here are 12 tips for setting up a buffet table.
The Old Farmer's Almanac Gardening Notebook
A gardener's most useful tool is knowledge from past seasons. Don't rely on sticky notes or memory! You'll love our beautiful Gardening Notebook with its waterproof cover—easy to bring to the garden. Keep records so you know when pests arrive and when to put preventative controls in place to avoid damage. Also, track what blossoms when, first and last frost dates, what was planted where, what worked, favorite varieties, what you want to move, and other notes. 
Fun and Easy Rugelach
Raspberry Walnut Rugelach
Sweet and flakey, rugelach (which translate to "little twists" or "rolled things") are Jewish pastries which have become a popular dessert across America.
Classic Christmas Goose
Roast Goose
Traditionally, the finest possible fare—and most historic—for a holiday dinner is roast goose. (Remember that scene from Charles Dickens' "A Christmas Carol"?) For an old-fashioned Christmas dinner, here's how to roast the golden goose.