Winter Solstice and Full Moon Coincide This Weekend
This is an archived issue of our Almanac.com Companion email newsletter.
Daily Newsletter for Friday, December 21, 2018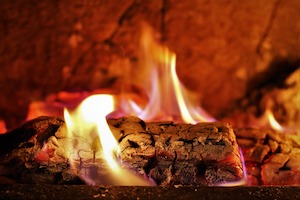 Come, bring with a noise,
My merry, merry boys,
The Christmas log to the firing.
While my good Dame she
Bids ye all be free,
And drink to your heart's desiring.
―Robert Herrick (1591–1674)
Longest Night of the Year!
Winter Solstice 2020: The First Day of Winter
The winter solstice is Monday, December 21, 2020. This is the astronomical first day of winter in the Northern Hemisphere and the shortest day of the year. What happens at the winter solstice? Why is the solstice important? Enjoy solstice facts and folklore from...
Full Cold Moon Rises!
Full Moon for December 2020
December's full Moon rises on December 29, 2020. The original Old Farmer's Almanac will reveal everything you need to know about the Full Cold Moon and what makes it special. 
The Old Farmer's Almanac Gardening Notebook
A gardener's most useful tool is knowledge from past seasons. Don't rely on sticky notes or memory! You'll love our beautiful Gardening Notebook with its waterproof cover—easy to bring to the garden. Keep records so you know when pests arrive and when to put preventative controls in place to avoid damage. Also, track what blossoms when, first and last frost dates, what was planted where, what worked, favorite varieties, what you want to move, and other notes. 
What is the Yule Log?
What is the Yule Log? | Christmas Traditions
What is the tradition of the Yule log? Today, many of us know the Yule log only as a yummy chocolate dessert! But Yule was the name of the old Winter Solstice festivals in northern Europe. Learn more about the custom of burning the Yule log. 
Buche de Noel
Buche de Noel
Try this easier, lighter version of the traditional chocolate yule log.