Mini veggies for containers, getting stronger, blueberry pancake
This is an archived issue of our Almanac.com Companion email newsletter.
Daily Newsletter for Monday, January 28, 2019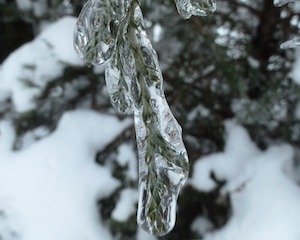 One must have a mind of winter
To regard the frost and the boughs
Of the pine-trees crusted with snow;
And have been cold a long time
To behold the junipers shagged with ice,
The spruces rough in the distant glitter.
–Wallace Stevens (1879–1955)
Mini-Veggies for Small Gardens
Dwarf and Mini Vegetables for Containers
Join the move towards minimalism! Mini- and dwarf vegetables provide hefty harvests from small pots and plots! Whether you have a small urban garden or just a small space, try these petite plants with oversize appeal—and yield! These fruits and vegetables are also ideal for the patio or even an apartment balcony.
Fresh Salad Indoors
Grow Fresh Salads Indoors All Winter
Enjoy free, tender salad greens indoors in recycled plastic containers under a couple of inexpensive fluorescent shop lights. Seriously, it's not that hard to grow salads all winter long! Here's how.
The 2019 Old Farmer's Almanac Garden Guide - Online Edition
JUST RELEASED: NEW 2019 EDITION
Enjoy instant access—from your tablet or computer! 
A special website makes reading our Online Edition as easy as flipping the pages of a book. Features enlargeable type, zoom, search, printing pages, or saving as a PDF file to your device. It's the Almanac Garden Guide always at your fingertips. Plus, pay no shipping charges either!  
National Blueberry Pancake Day!
Blueberry Sour Cream Pancakes
If you have fresh blueberries available, we highly recommend you try these Blueberry Sour Cream Pancakes.
All-Natural, DEET-Free Insect Repellent
The Old Farmer's Almanac name is on the bottle. If it doesn't effectively repel ticks, mosquitoes, blackflies, chiggers, and other biting bugs we will give you your money back!
Improve Strength, Prevent Injury
Go Ahead: Add On a Little More Weight
When most people think of exercise, they think of running and "cardio." However, as you age, lifting a little weight is so important for a raft of health benefits—and to avoid getting hurt! Here are a few tips.
Tick Removal Tool
The best tick remover is the one that is easy to carry and always with you! This safe tick removal tool attaches to key chains, leashes, and backpacks. Made in the USA from high-strength aluminum that won't break or bend. Sold as 3-pack for spares and sharing.
Getting Robocalls?
Getting Robocalls? Blame the Measles.
So who's responsible for those nuisance robocalls?  Here's some surprising history—going back to Alexander Graham Bell's time and a case of measles. 
2019 MOON WALL CALENDAR
Want to enjoy the beautiful Moon year-round? Check out our 2019 Moon Wall Calendar that is loaded with amazing lunar lore, facts, and photos!