Gardening tips for small spaces, bright star of February!, onions
This is an archived issue of our Almanac.com Companion email newsletter.
Daily Newsletter for Friday, February 8, 2019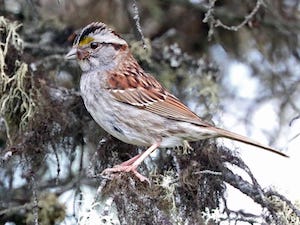 A sparrow enters the tree,
Whereon immediately
A snow-lump thrice his own slight size
Descends on him and showers his head and eyes.
–Thomas Hardy (1840–1928)
How to Sow Onions
How to Grow Onions From Sowing to Harvest
Onions are a must-grow vegetable planted early in the spring. You can get a goodly harvest for a small area, onions will keep for up to 6 months, and they are essential to so many recipes! Here's how to sow onion seeds or sets, care for your onions, and harvest!
Gardening Tips for Small Spaces
Raised Bed Gardens and Small Plots
Grow more in less space with raised garden beds. Here are five excellent tips for ensuring a bountiful harvest in a limited space.
Brightest Star of February
Find Sirius, the Brightest Star of February
Who hasn't heard of the Dog Star, Sirius? In February, it's the brightest star in Earth's night sky, parading overhead from nightfall until midnight. When viewing Sirius, we're actually seeing the combined light of two stars. Learn how to find Sirius.
Sweets for Your Sweet
Valentine's Day Dessert Recipes
Take a look at our mouthwatering Valentine's Day dessert recipes. We've made chocolate lava cake, mini-heart pies, classic sugar cookies, easy turtle candies, and more. Plus, we have Valentine's Day breakfast and dinner recipes. Get some great ideas!
Cold Sore Remedies
How to Get Rid of a Cold Sore
Cold sores can be a real pain in the… lip. Learn what causes cold sores and some natural cold sore remedies.
Large Wooden Matchboxes
Choose from many different bold designs! Each matchbox is about the size of a deck of playing cards and contains 50 wooden matches with color-coordinated tips.