Mini heart pies, spot Sirius, Valentine weather history
This is an archived issue of our Almanac.com Companion email newsletter.
Daily Newsletter for Wednesday, February 13, 2019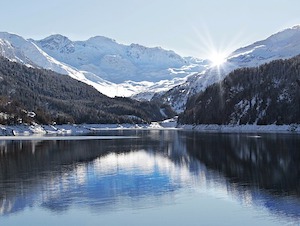 Serene will be our days and bright,
And happy will our nature be,
When love is an unerring light,
And joy its own security.
–William Wordsworth (1770–1850)
Mini Heart Pies
Strawberry Hand Pies
These old-school strawberry hand pies are so easy. The pies may be baked in the oven or cooked on a gas or charcoal grill. 
Weather and Valentine's Day
Was Valentine's Day Once Warmer?
When Valentine's Day (on February 14) became popular in the Middle Ages, the climate was warmer than it is now! Birds mated. Flowers bloomed. And love blossomed. If it had been wintry weather, would this holiday still be the same today? Learn more about the Medieval Warm Period.
Vern Ader's Weed Spinner
Finally, it's fun and easy to weed!  What's more, dandelions don't stand a chance!
The Weed Spinner is an innovative drill-driven weed removal bit that spins out weeds and their roots in one whirling motion.The action is fast and the result is very satisfying! What's more, there's no kneeling, bending, or getting your hands dirty.
A More Romantic Garden
Best Flowers for a Romantic Garden
Create a romantic garden this year! Like love itself, a romantic garden benefits from harmonious plantings, lovely scents, and picturesque plants. Here are tips plus a list of flowers which touch our hearts, celebrate love, or symbolize undying affection. In the garden, love is in the air!
Support Your Local Farmers Tote Bag
This sturdy cotton canvas bag features The Old Farmer's Almanac 1792 logo on one side and the message "Support Your Local Farmers" on the other. Made in the USA. 
2019 Great Backyard Bird Count
2020 Great Backyard Bird Count | Citizen Science Projects
Join a citizen science project! If you can count birds, bees, or garden bugs, you've got the skills. Here are ways—in nature and beyond—to participate. Next up: The 2020 Great Backyard Bird Count from February 14 to 17. Find out more!
Large Wooden Matchboxes
Choose from many different bold designs! Each matchbox is about the size of a deck of playing cards and contains 50 wooden matches with color-coordinated tips.