March happenings, weather forecasts, crockpot jambalaya
This is an archived issue of our Almanac.com Companion email newsletter.
Daily Newsletter for Friday, March 1, 2019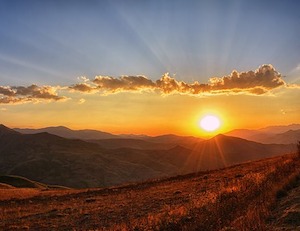 While the bright radiant sun in centre glows,
The earth in annual motion round it goes;
At the same time on its own axis reels,
And gives us change of seasons as it wheels.
–James Russell Lowell (1819–91)
March Happenings
The Month of March 2020: Holidays, Fun Facts, Folklore
March brings with it the promise of gardening and warm(er), sunny days, as Earth turns its frostbitten cheek to winter and springs forth from the vernal equinox. Read about this month's holidays, happenings, seasonal recipes, gardening tips, Moon phases, folklore, and much more!
March Birth Flower
March Birth Flower
March's birth flower is the daffodil. It's no surprise. These cheerful flowers are a harbinger of spring! Learn more about the daffodil's flower meaning and symbolism.
March and April Predictions
Long-Range Weather Forecast
Since 1792, The Old Farmer's Almanac has been known for its traditionally 80 percent–accurate forecasts. Find the long range weather summary and month by month predictions for your city, state, or region of the USA or Canada.
Large Brass Hearth Cricket
For more than a millennium and across many parts of the globe, crickets have been a symbol of good luck. A cricket found near the hearth is an especially auspicious omen of good fortune. 
Raised Bed Layouts by Readers!
Raised Bed Vegetable Garden Layouts
Interested in a growing food in a raised garden bed? Here are raised garden bed plans and layouts to inspire you!
Pewter Zipper Pulls
Great for fleece coats and backpacks! Pewter zipper pulls are fun and convenient!  A stylish accessory that is also helpful for arthritic or small hands. Made in Vermont.
Jambalaya for Mardi Gras
Crockpot Jambalaya
Our Jambalaya is a great soul and belly warmer on a cold day.
Lobster Rope Doormats
Virtually impervious to wear and water, easy to clean, and excellent at removing dirt and snow!