Mercury Retrograde, Crescent Moon smile, Allie's garden
This is an archived issue of our Almanac.com Companion email newsletter.
Daily Newsletter for Monday, March 4, 2019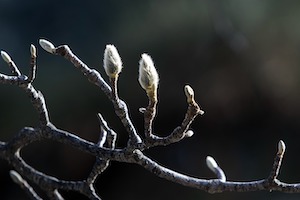 The brown buds thicken on the trees,
Unbound, the free streams sing,
As March leads forth across the leas
The wild and windy spring.
–Elizabeth Akers Allen (1832–1911)
Allie's Kitchen Garden
Vegetable Garden Planner Review: Allie W.
See Allie's beautiful garden go from plan to plenty!  Here's her review of the Almanac Vegetable Garden Planner which she used to plant her own kitchen garden, with veggies like kale and radishes as well as rosemary, sage, and thyme!
A Crescent Moon Smile
Signs of Spring From the Sky
What are signs of spring in the sky? Perhaps you've noticed the earlier sunrises. Let's observe a few more signs in the sky—including a springtime smile from our very own Moon.
Birthstone for March
March Birthstone: Color and Meaning
March's birthstone is aquamarine, a beautiful blue-green stone with a calming, soothing energy. In ancient times, this aquatic blue stone was believed to protect sailors on oceanic voyages. 
Pewter Earrings
Handmade in Vermont. Choose from dragonflies, butterflies, and hearts!
Sweet Potato and Sausage
Sweet Potato and Sausage Casserole
This easy-to-make Sweet Potato Sausage Casserole is a go-to recipe.  Easy and everyone loves it! Enjoy as a main dish or side dish.
Crossbody Purses for Cell Phones by Chala
Top-seller! Available in different nature-inspired designs! Perfect size for carrying most cell phones, cash, ID, and a few credit cards. Very nicely made and features adjustable straps.
Mercury Retrograde Begins
Mercury Retrograde Dates for 2020
Mercury's last period of retrograde motion in 2020 lasts from October 14 to November 3! According to the age-old practice of astrology, we are all influenced by the effect of Mercury in retrograde.
Teapot Tea Infuser
Our most popular tea infuser is based on a pewter teapot made in colonial Connecticut.