Mardi Gras, Shrove Tuesday pancakes, Earthshine
This is an archived issue of our Almanac.com Companion email newsletter.
Daily Newsletter for Tuesday, March 5, 2019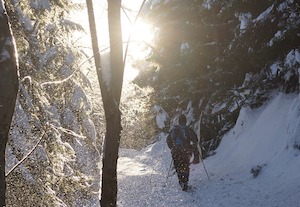 The stormy March is come at last,
With wind, and cloud, and changing skies;
I hear the rushing of the blast
That through the snowy valley flies.
–William Cullen Bryant (1794–1878)
Why We Celebrate Mardi Gras
Mardi Gras 2020 (Fat Tuesday)
Mardi Gras 2020 is Tuesday, February 25! Why do we celebrate Mardi Gras? Also called Shrove Tuesday or Fat Tuesday, this holiday is associated with delicious foods and revelry. Learn more about this festive holiday!
The Polar Vortex Effect
The Polar Vortex: When a Warmer Climate Means Colder Weather
Although much of the early winter season had been mild in many places, January brought some exceptionally cold weather due to the polar vortex, which is a fast-flowing jet stream of air that circles the North Pole in the upper parts of the stratosphere about 20 miles above Earth's surface.
SPONSORED
Three irresistible mini bell peppers!
Packed with sweet flavor, these baby bells are produced all summer long on compact plants. Enjoy them as a snack, on a salad, or stuffed!
What is Earthshine?
What is Earthshine?
Ever noticed that you can sometimes see the part of the Moon that isn't lit up?  That's earthshine!  Historically, this is called "the new Moon in the old Moon's arms." Learn more about earthshine.
Large Brass Hearth Cricket
For more than a millennium and across many parts of the globe, crickets have been a symbol of good luck. A cricket found near the hearth is an especially auspicious omen of good fortune. 
Root Cellar Storage
Root Cellars: Types and Storage Tips
Before refrigeration, an underground root cellar was an essential way to store carrots, turnips, beets, parsnips, potatoes, and other root vegetables. Today, root cellars have made a comeback to keep food from freezing during the winter and keep food cool during the summer to prevent spoilage.
Crossbody Purses for Cell Phones by Chala
Top-seller! Available in different nature-inspired designs! Perfect size for carrying most cell phones, cash, ID, and a few credit cards. Very nicely made and features adjustable straps.
Pancakes for Dinner?
Shrove Tuesday Pancakes
In some countries, Shrove Tuesday is also called Pancake Day! We've updated our pancake recipe so that you can easily whip it up in a blender. These delicious pancakes have more of a crepe consistency, as was traditional. The lemon juice and sprinkled sugar are optional toppings. We're big fans of lemon!
Lobster Rope Doormats
Virtually impervious to wear and water, easy to clean, and excellent at removing dirt and snow!