Vernal equinox oddities, grow your own salad greens, gorgeous galaxies!
This is an archived issue of our Almanac.com Companion email newsletter.
Daily Newsletter for Monday, March 18, 2019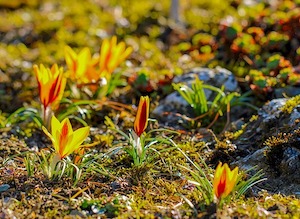 The Earth awakes: Already her deep heart
Begins to stir, and send its life abroad.
–Thomas Buchanan Read (1822–72)
Vernal Equinox Facts
Vernal Equinox Oddities
On the spring equinox, does the Sun rise due east and set due west? Are day and night equal? Bob Berman shares some vernal equinox oddities for the very first day of spring.
Gorgeous Galaxies!
Spring is Galaxy Time!
Did you know that spring is galaxy time? More galaxies are visible from March to mid-May, early in the evening. I thought I'd share some information and photos of these galaxies!
Grow Salad Greens
How to Grow Your Own Salad Greens
Growing your own salad greens will put a world of fresh ingredients at your fingertips. Whether you are a gourmet salad lover who likes to experiment with interesting greens or someone who just wants to have your own homegrown lettuce, your choices are only limited by the seeds you can find and the space you have.
Supercharge Your Soil!
How to Enrich Your Garden Soil With Minerals
The secret to a successful garden is right beneath your feet. Show your soil some love and you can expect bigger, better harvests. In this short video, we demonstrate five simple yet highly effective ways to prepare your soil to give your crops the best possible start this spring.