Rare Full Moon on the Spring Equinox!, grow bags, warming your soil
This is an archived issue of our Almanac.com Companion email newsletter.
Daily Newsletter for Tuesday, March 19, 2019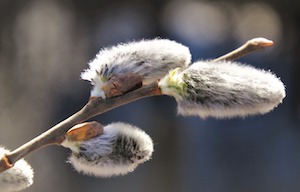 All Nature seems at work. Slugs leave their lair—
The bees are stirring—birds are on the wing—
And Winter slumbering in the open air,
Wears on his smiling face a dream of Spring!
–Samuel Taylor Coleridge (1772–1834)
Rare Full Moon on Equinox!
Full Moon on the Spring Equinox
This is one of those rare years when the full Moon lands right smack on the spring equinox—on March 20, 2019, in North America. This only happens three times a century, on average. Plus, it's the third and final "supermoon." Enjoy the extra-bright equinox full moon Wednesday night!
What are Grow Bags?
Discover Grow Bags: An Alternative Plant Container
If, like me, you resort to using containers to grow some of your plants, try using a grow bag this year. They have some advantages over plastic pots or terra cotta. I was especially interested to learn about "air pruning."
Warming Your Soil Up
Warming the Soil for Spring Planting
Gardening in regions with a short growing season can be an adventure. There always seems to be another spring snowstorm around the corner! To take advantage of every possible growing day, we need to get our snow melted and garden soil thawed as quickly as possible.  
Wild Ramp Pesto
Wild Ramps Pesto Recipe
Ramp season is here! Ramps are one of the first wild greens to emerge. This springtime native is famous for their restorative qualities after a long winter.And where there are ramps, there's a Wild Ramps Pesto recipe to be made!
Spring Tonics
Spring Tonics
What's a Spring Tonic? While the vernal equinox may mark the moment of spring, the appearance of the first greens makes it real. Over the centuries, people have relied on the green plants that emerge early in the season as a sort of "detox" to revive, strengthen, and invigorate the body. Learn more and see a few recipes.