Equinox today—​​​​​​​all you need to know, final supermoon of 2019, plants for early spring
This is an archived issue of our Almanac.com Companion email newsletter.
Daily Newsletter for Wednesday, March 20, 2019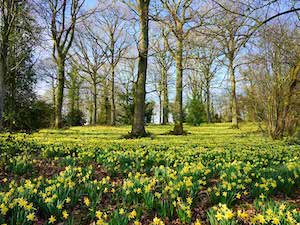 For glad Spring has begun,
And to the ardent sun
The earth, long time so bleak,
Turns a frost-bitten cheek.
–Celia Thaxter (1835–94)
Wednesday, March 20, 2019
79th day of the year
Holly Hunter (actress) was born on this day in 1958.
Sir Isaac Newton (physicist) died on this day in 1727.
Today is the Spring Equinox
First Day of Spring 2020: The Spring Equinox
In 2020, the spring equinox (also called the March equinox or vernal equinox) falls on Thursday, March 19. This event marks the astronomical first day of spring in the Northern Hemisphere. Before you try to balance that egg, read this!
Full Worm Moon Rises
Full Moon for March 2020
March's full Moon will be a supermoon! Here's all you need to know about the full Worm Moon—including Moon phase dates and folklore.
Easy Veggies for Early Spring
Easy Vegetables to Plant in Early Spring
The secret to a bountiful early harvest is choosing the right seeds. As you peruse catalogs or seed kiosks, keep this in mind: Choose cold-resistant vegetables to plant this spring, and well begun, you'll be half done. 
Red Rooster Wall Clock
Here's a clock to crow about! Features a distressed finish that makes it look like a treasure from the past.
Spring-Cleaning Tips
Spring-Cleaning Naturally: 6 Ingredients
When it comes to spring-cleaning or any kind of housecleaning, I use an array of six admirably versatile natural cleaning products: vinegar, baking soda, lemon juice, salt, borax, wood ash.
Black and White Rooster Decor
Bring a bit of the rural countryside to your outdoor decor. Handcrafted thick-metal Black and White Rooster. Fine detail and embossed texture on the feathers, wattle, and comb are enhanced by the hand-painted finish. For your indoor or outdoor enjoyment!