Mercury Retrograde & Zodiac signs, planting lettuce, eating dandelions
This is an archived issue of our Almanac.com Companion email newsletter.
Daily Newsletter for Monday, March 25, 2019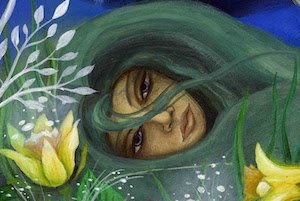 Again rejoicing Nature sees
Her robe assume its vernal hues,
Her leafy locks wave in the breeze,
All freshly steep'd in morning dews.
–Robert Burns (1759–96)
Planting Lettuce
Lettuce
Lettuce is one of our favorite garden vegetables because it is far superior—in both taste and vitamin A content—to the store-bought alternative! Plant in the spring, starting two weeks before frost. In fall, start sowing again eight weeks before the fall frost. Read more!
Moons and Moods
Can a Full Moon Affect Your Mood?
Can the Moon affect your mood? Does it make people crazy? Science doesn't have proof, but could centuries of folklore be wrong? Unless you plan to ask a werewolf (which we don't recommend), it might be time to explore the myths and reality.
Crossbody Purses for Cell Phones by Chala
Top-seller! Available in different nature-inspired designs! Perfect size for carrying most cell phones, cash, ID, and a few credit cards. Very nicely made and features adjustable straps.
Eating Young Dandelions
Dandelion Health Benefits
Gardeners curse the ubiquitous dandelion and its pervasive nature. They pop up everywhere in spring and are so hard to get rid of; that darn tap-root goes to China!
The Jeffersonian Rain Gauge
Inspired by Thomas Jefferson's affinity for invention, this unique device uses a float and lever design to measure up to 5 inches of rain or sprinkler water.
Mercury Retrograde & Zodiac Signs
Mercury Retrograde and Zodiac Signs
When Mercury is in retrograde, its influence depends on which of the 12 zodiac signs the planet is in when it goes retrograde. Below is a brief look at what you can expect for each astrological sign.
Grande View Bird Feeder Thermometer
Combines a tube-style feeder with a large thermometer that is easy to read from a distance. Features 4 perches, a satin nickel finish, and capacity for more than a pound of seeds.
Cleaning the Chicken Coop
Spring-Cleaning the (Hen)House
April is the beginning of the busy season for me. The snow is gone and the garden beckons, but high on my list is to spring-clean the chicken coop. It needs to be done every year!