Growing straight carrots, how to prune roses, Big Dipper in springtime
This is an archived issue of our Almanac.com Companion email newsletter.
Daily Newsletter for Tuesday, March 26, 2019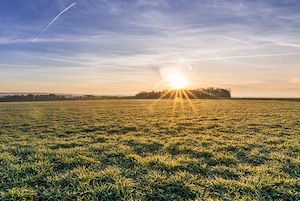 Would you think it? Spring has come,
Winter's paid his passage home;
Packed his ice-box—gone—half way
To the arctic, they say.
–Christopher Cranch (1813–92)
How to Prune Roses
How to Prune Roses
Pruning roses is not as complicated as it may seem, though it's important to follow the right technique for the type of rose you have. Here's how and when to prune the roses in your garden!
Finding the North Star
The Big Dipper in the Spring Sky
The Big Dipper is an old friend to most of us. Poetically, it is spring itself, the season of renewal. Just go outside in early evening, and you'll see stars shaped in a dipper pattern high in the northeastern sky.
Ham With Sweet and Tangy Glaze
Honey-Mustard Glazed Ham
Our Honey-Mustard Glazed Ham makes a striking main dish with its shiny, caramelized coating. A tangy, crunchy crust yields a mouthwateringly delicous interior.
Crossbody Purses for Cell Phones by Chala
Top-seller! Available in different nature-inspired designs! Perfect size for carrying most cell phones, cash, ID, and a few credit cards. Very nicely made and features adjustable straps.
Happy Birthday, Aries!
Aries Zodiac Sign
Happy Birthday, Aries! As the first sign in the zodiac, Aries is represented by the Ram and meets challenges head on. Under the tropical zodiac, the Sun transits this sign between approximately March 20 and April 20.
The Jeffersonian Rain Gauge
Inspired by Thomas Jefferson's affinity for invention, this unique device uses a float and lever design to measure up to 5 inches of rain or sprinkler water.