Radishes, 10 flavorful chicken recipes, what is aquaponics?
This is an archived issue of our Almanac.com Companion email newsletter.
Daily Newsletter for Thursday, March 28, 2019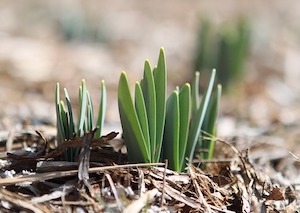 The season comes when, from her three-month trance,
The Earth awakens: already her deep heart
Begins to stir, and send its life abroad.
–Thomas Buchanan Read (1822–72)
What is Aquaponics?
What is Aquaponics? | The Basics of Aquaponic Systems
Aquaponics is a gardening method that leverages the symbiotic relationship between fish and plants. The two grow together with the plants naturally filtering water for the fish and the fish providing an organic food source for the plants. Learn more about this farming method that has made its way into home gardening.
SPONSORED
Tired of Too Many Lawn Tasks and Not Having the Right Equipment?
It's Spring and time to take care of the many lawn projects that await you. Wouldn't it be great to have a single reliable power source that accepts multiple attachments to tackle all sorts of jobs? ECHO's Pro Attachment Series(TM) is the answer.
Your Local Frost Dates
Frost Dates Calculator
Just punch in your zip code or postal code for your frost dates!
10 Flavorful Chicken Recipes
10 Fun and Flavorful Chicken Recipes
Chicken dishes are popular and budget-friendly—but chicken can get boring. If you are tired of making the same chicken recipes over and over, try one or all ten of these delicious options!
How NOT to Use Vinegar
White Vinegar: Powerful But Use With Caution
It's hard to think of a natural substance that serves such a wide array of everyday purposes as vinegar. While it might seem as if you can use vinegar on everything, it's also acidic, which means that it can cause damage to your health and home if you use it improperly. Here are things that you should NOT use vinegar for.
Tick Removal Tool
The best tick remover is the one that is easy to carry and always with you! This safe tick removal tool attaches to key chains, leashes, and backpacks. Made in the USA from high-strength aluminum that won't break or bend. Sold as 3-pack for spares and sharing.