Predicting frost, hummingbird nectar, veggies for small spaces and containers
This is an archived issue of our Almanac.com Companion email newsletter.
Daily Newsletter for Tuesday, April 2, 2019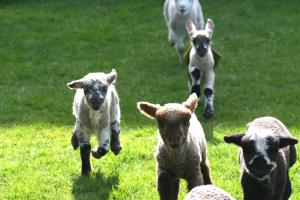 April is here!
Blithest season of the year,
The little brook laughs as it leaps away;
The lambs are out on the hills at play.
–Eben E. Rexford (1848–1916)
Predicting Frost
How to Predict a Frost
Learn how to predict frost, differentiate between a light frost and a hard freeze, and protect your garden from frost with these tips!
SPONSORED
Trio of Berry Goodness
Imagine succulent berries in glorious shades of red, purple and blue. They are ripe for the taking straight from your garden. Jung Seed's luscious berries come in a wide variety that are exquisite for desserts, snacks and treats.
Veggies for Small Spaces
Kitchen Garden Plants: Vegetables for Containers and Small Spaces
Kitchen gardens—grown for eating and cooking—are often grown in smaller spaces and containers. So, keep an eye out for plants bred for small spaces! Here is a short list, including cherry tomatoes, Little Gem lettuce, peppers, eggplant, and more.
Hummingbird Nectar
How to Make Hummingbird Nectar
Who doesn't love hummingbirds? Learn how to make homemade hummingbird food and attract hummingbirds to your garden.
Vermont Weather Station
Measures temperature and humidity with an easy-to-read scale. Available in both brass and copper. A handsome and practical addition to your kitchen window.
German Pancake
German Pancakes
Treat yourself to some delightful German Pancakes for breakfast, lunch, or brunch.
April's Horoscope
Monthly Horoscope for April 2020
Here's your monthly horoscope for April 2020. Longtime Almanac astrologer Celeste Longacre provides at-a-glance predictions for all 12 zodiac signs. See horoscopes for you and your loved ones.