Identifying seedlings from weedlings, herbal tinctures, warming Earth
This is an archived issue of our Almanac.com Companion email newsletter.
Daily Newsletter for Monday, April 8, 2019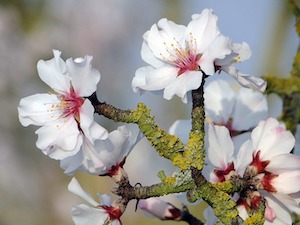 Blossom of the almond trees,
April's gift to April's bees,
Birthday ornament of spring,
Flora's fairest daughterling.
–Sir Edwin Arnold (1832–1904)
Tomato Cages
How to Make Tomato Cages and Tomato Stakes
In this video, we explain how to choose the best plant supports for both bush and vining tomato plants, and show how to make inexpensive homemade tomato cages. This helps to prevent branch breakage, provide air circulation, avoid slug damage, and keep tomatoes productive and healthy.
All-Natural, DEET-Free Insect Repellent
The Old Farmer's Almanac name is on the bottle. If it doesn't effectively repel ticks, mosquitoes, blackflies, chiggers, and other biting bugs we will give you your money back!
Is Earth Growing Warmer?
A Hot Topic: Graphing Temperature Trends
Recently, as I was working with a spreadsheet that has all of my weather forecasts for The Old Farmer's Almanac for the 23 years that I have been making them, it occurred to me that here was a database that contains a great deal of information that might be useful in looking at trends.
Extra-Handy Lazy Susan
Spins effortlessly, won't tip, and holds a lot! Handcrafted in America by a 150-year-old basket company. Constructed with tough Appalachian white ash and brass nails. 
Cheese, Please!
Delicious Recipes With Cheese
Cheese can be used in countless ways. You can whip up a pot of macaroni and cheese or toss pasta with butter and Parmesan for an instant meal. Adding goat cheese to a salad can greatly enhance your lunch experience. Of course, there's the classic—melty grilled cheese! Here you'll find a collection...
Herbal Tinctures
How to Make an Herbal Tincture
Herbal tinctures are age-old remedies that can help soothe and heal whatever might ail you. Here's how to make herbal tinctures using plants from your garden.