Wisteria, follow the Moon, 3 simple soil tests
This is an archived issue of our Almanac.com Companion email newsletter.
Daily Newsletter for Tuesday, April 9, 2019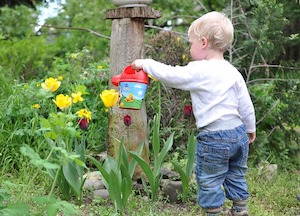 A flower is looking through the ground,
Blinking at the April weather;
Now a child has seen the flower:
Now they go and play together.
–Harold Monroe (1879–1932)
Tuesday, April 9, 2019
99th day of the year
Cynthia Nixon (actress) was born on this day in 1966.
Harry Babbitt (sang with the Kay Kyser big band on such hits as "The White Cliffs of Dover" and voiced the laugh of Woody Woodpecker) died on this day in 2004.