Wisteria, follow the Moon, 3 simple soil tests
This is an archived issue of our Almanac.com Companion email newsletter.
Daily Newsletter for Tuesday, April 9, 2019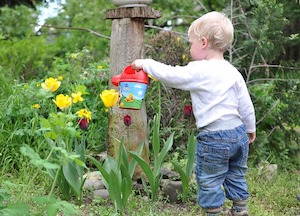 A flower is looking through the ground,
Blinking at the April weather;
Now a child has seen the flower:
Now they go and play together.
–Harold Monroe (1879–1932)
Growing Wisteria
Wisteria
A high-climbing vine, wisteria blooms vigorously in spring with large, drooping clusters of lilac or bluish-purple flowers. Here's how to plant, grow, and care for wisteria in your garden!
3 Easy and Quick Soil Tests
3 Simple DIY Soil Tests
Success in the garden starts with the soil. It, as much as—and sometimes more than—moisture and sunlight, determines whether plants thrive or die. Here are a few quick and easy ways to test your soil.
All-Natural, DEET-Free Insect Repellent
The Old Farmer's Almanac name is on the bottle. If it doesn't effectively repel ticks, mosquitoes, blackflies, chiggers, and other biting bugs we will give you your money back!
Follow the Moon Tomorrow
Sky Map: April 2019
In Earth's Northern Hemisphere, April is the month when the world awakes from its long winter sleep. The weather is warmer, and this encourages sky gazers to spend more time observing the heavens. Let's follow the Moon during the middle 10 days of April as she crosses the southern sky.