Mulching Guide, spot Mars and Pleiades, earthworms
This is an archived issue of our Almanac.com Companion email newsletter.
Daily Newsletter for Wednesday, April 10, 2019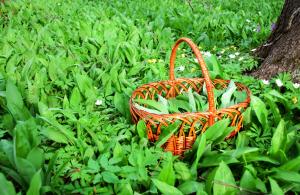 The grass of spring covers the prairies,
The bean bursts noiselessly through the mould in the garden,
The delicate spear of the onion pierces upward,
The apple-buds cluster together on the apple-branches.
–Walt Whitman (1819–92)
Mars and the Seven Sisters
Spot the Pleiades in the Spring Sky
These nights, the Pleiades—also called the Seven Sisters—appear at nightfall, lowish in the west, directly above where the Sun sets. As a bonus, the orange planet Mars is now traveling just to their left. See how to spot the Pleiades!
Mulching Guide
Types of Mulch: Advantages and Disadvantages of Mulching
Mulch is your friend, helping retain moisture and suppress weeds in the garden. See the many advantages—and disadvantages—to mulching. Plus, we list over 10 types of mulch—both organic and non-organic—and tips on how to mulch your garden, including amount of mulch needed.
Tomato Cages
How to Make Tomato Cages and Tomato Stakes
In this video, we explain how to choose the best plant supports for both bush and vining tomato plants, and show how to make inexpensive homemade tomato cages. This helps to prevent branch breakage, provide air circulation, avoid slug damage, and keep tomatoes productive and healthy.
All-Natural, DEET-Free Insect Repellent
The Old Farmer's Almanac name is on the bottle. If it doesn't effectively repel ticks, mosquitoes, blackflies, chiggers, and other biting bugs we will give you your money back!
Easter Brunch Idea
Asparagus Tart
With just a few simple ingredients, this easy Asparagus Tart can make an impressive contribution to any brunch, lunch, or dinner table.
Earthworms: Good for the Garden!
How to Attract Worms to Your Garden
Earthworms have been called "nature's plows" for the way they dig through the soil. Their tunnels help aerate and loosen the soil, making it easier for plant roots to penetrate well below the surface, and along the way they drop their poop, a rich fertilizer called a casting. See how to attract worms to the garden!
Pewter Zipper Pulls
Great for fleece coats and backpacks! Pewter zipper pulls are fun and convenient!  A stylish accessory that is also helpful for arthritic or small hands. Made in Vermont.