5 steps to a great yard cleanup, what is Passover?, gardening by the Moon
This is an archived issue of our Almanac.com Companion email newsletter.
Daily Newsletter for Friday, April 19, 2019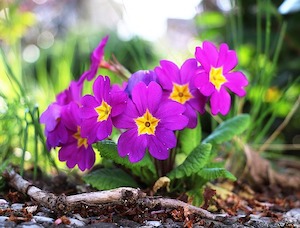 April brings the primrose sweet,
Scatters daisies at our feet.
–Sara Coleridge (1802–52)
Friday, April 19, 2019
109th day of the year
Ashley Judd (actress) was born on this day in 1968.
Norris McWhirter (co-founder of the Guinness Book of Records, final arbiter on everything from the fastest climb of Mount Everest to the world's longest hot dog) died on this day in 2004.
5 Steps to a Great Yard Cleanup
5 Ways to Spring Clean Your Yard and Garden
Spring has arrived! It's time to take a look at the state of your yard. We'll boil it down to 5 steps so you're in great shape for the season!
Full Moon Today
Gardening by the Moon
Gardening by the Moon is a great way to plan your garden. Many of our readers follow the age-old practice of planting by the Moon's phase for a healthier, more productive garden.
2019 MOON WALL CALENDAR
Want to enjoy the beautiful Moon year-round? Check out our 2019 Moon Wall Calendar that is loaded with amazing lunar lore, facts, and photos!   
Making Orchid Babies
Orchid Babies! Potting an Orchid Keiki
One of my orchids had babies! Yes, many orchids grow little baby plants or"keiki." You can remove these plantlets and pot it up to grow more orchids. Here's how it's done.
Try the Weed Spinner!
All you need is a drill and weeds and their roots are gone in one quick spin! The action is fun, fast, and satisfying! What's more, there's no kneeling, bending, or getting your hands dirty. Expect your neighbors to get curious and want to try the Weed Spinner, too. This back-saving drill bit was invented by retired school teacher Vern Ader and we thank him. 
Passover Meaning and Foods
When Is the Start of Passover 2020?
Passover 2020 begins at sundown on Wednesday, April 8. See more information on Passover dates, meaning, and traditional recipes, including charoset and beef brisket.
Crossbody Purses for Cell Phones by Chala
Top-seller! Available in different nature-inspired designs! Perfect size for carrying most cell phones, cash, ID, and a few credit cards. Very nicely made and features adjustable straps.
Updated! Easter Recipe Ideas
Best Easter Recipe Ideas
We've taste-tested more Easter recipes! All on one page, browse our best Easter dinner recipe ideas—Easter hams and lambs, deviled egg appetizers, seasonal sides (from asparagus salad to carrot puff), colorful soups, Easter breads and hot cross buns, and delicious Easter desserts (from carrot cake to lovely lemon pie). You'll also find egg-cellent Easter brunch ideas!
All-Natural, DEET-Free Insect Repellent
The Old Farmer's Almanac name is on the bottle. If it doesn't effectively repel ticks, mosquitoes, blackflies, chiggers, and other biting bugs we will give you your money back!