May Day, sweet jasmine, planting a pot, busy beehives
This is an archived issue of our Almanac.com Companion email newsletter.
Daily Newsletter for Wednesday, May 1, 2019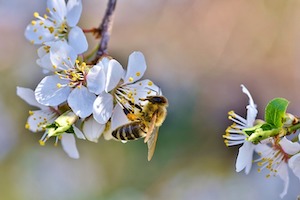 Hebe's here, May is here!
The air is fresh and sunny;
And the miser-bees are busy
Hoarding golden honey!
–Thomas Bailey Aldrich (1836–1907)
Wednesday, May 1, 2019
121st day of the year
Tim McGraw (country singer) was born on this day in 1967.
Spike Jones (band leader, musician, & comedian) died on this day in 1965.
Remember May Day?
May Day 2020: What is May Day?
Celebrate May Day 2020! Though it may seem quaint now, in decades past, the May Day Basket—like the ancient act of dancing around the Maypole—was a widespread symbol of spring in the United States and other countries. Discover the traditions of this holiday and how the May 1 celebration began!
Welcome May!
The Month of May 2019: Holidays, Fun Facts, Folklore
Celebrate the gorgeous month of May! The Sun is warming, the birds are chirping, the flowers are blooming, and the garden is growing. See what fun and interesting days May has to offer—from holidays to history to advice.
Planting a Flower Pot
How to Plant in Pots Correctly in 5 Steps
How to do you plant flowers in a pot or container? What do you put in the bottom of your planter? How do you ensure drainage? I attended an outdoor container gardening lecture at The Boston Flower and Garden Show and thought I'd share tips on how to create a basic planter.
Sweet Jasmine!
Jasmine
The sweetly-scented jasmine flower can fill a room or a garden with its heady scent. Though jasmine is a vine usually grown outdoors, some varieties can also be grown as houseplants. There is some confusion regarding jasmine and which variety is fragrant. Read more about growing jasmine.
Try the Weed Spinner!
All you need is a drill and weeds and their roots are gone in one quick spin! The action is fun, fast, and satisfying! What's more, there's no kneeling, bending, or getting your hands dirty. Expect your neighbors to get curious and want to try the Weed Spinner, too. This back-saving drill bit was invented by retired school teacher Vern Ader and we thank him. 
Choosing a Beehive
Beekeeping 101: Choosing a Type of Beehive
Before your bees arrive, you must consider where they are going to live. There are three basic types of beehives. Let's figure out which style is right for you.