May Day, sweet jasmine, planting a pot, busy beehives
This is an archived issue of our Almanac.com Companion email newsletter.
Daily Newsletter for Wednesday, May 1, 2019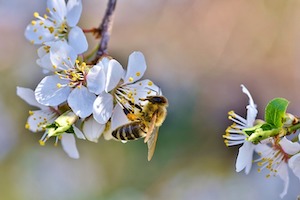 Hebe's here, May is here!
The air is fresh and sunny;
And the miser-bees are busy
Hoarding golden honey!
–Thomas Bailey Aldrich (1836–1907)
Remember May Day?
May Day 2020: What is May Day?
May Day (May 1) is a holiday rich in history and folklore, celebrating the return of spring! As a child, we remember our grandparents leaving delightful little May Day baskets, as well as the fun tradition of dancing around the maypole at school. Learn more about May Day and 10 ways to "bring in the May."
Welcome May!
The Month of May 2020: Holidays, Fun Facts, Folklore
Celebrate the gorgeous month of May! The Sun is warming, the birds are chirping, the flowers are blooming, and the garden is growing. See what fun and interesting days May has to offer—from holidays to history to advice.
Planting a Flower Pot
How to Plant in Pots Correctly in 5 Steps
How to do you plant flowers in a pot or container? What do you put in the bottom of your planter? How do you ensure drainage? I attended an outdoor container gardening lecture at The Boston Flower and Garden Show and thought I'd share tips on how to create a basic planter.
Sweet Jasmine!
Jasmine
The sweetly-scented jasmine flower can fill a room or a garden with its heady scent. Though jasmine is a vine usually grown outdoors, some varieties can also be grown as houseplants. There is some confusion regarding jasmine and which variety is fragrant. Read more about growing jasmine.
Vern Ader's Weed Spinner
Finally, it's fun and easy to weed!  What's more, dandelions don't stand a chance!
The Weed Spinner is an innovative drill-driven weed removal bit that spins out weeds and their roots in one whirling motion.The action is fast and the result is very satisfying! What's more, there's no kneeling, bending, or getting your hands dirty.
Choosing a Beehive
Beekeeping 101: Choosing a Type of Beehive
Before your bees arrive, you must consider where they are going to live. There are three basic types of beehives. Let's figure out which style is right for you.