Growing peanuts, how insects predict weather, raising ducks
This is an archived issue of our Almanac.com Companion email newsletter.
Daily Newsletter for Thursday, May 9, 2019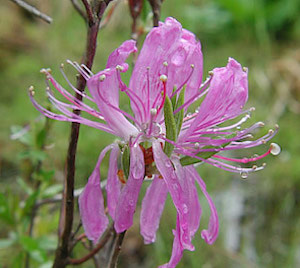 In May, when sea-winds pierced our solitudes,
I found the fresh Rhodora in the woods,
Spreading its leafless blooms in a damp nook,
To please the desert and the sluggish brook.
–Ralph Waldo Emerson (1803–82)
Mom's Meat Loaf
Mom's Meat Loaf
For some people, meat loaf is a "backup" meal when there's nothing else in the house or you need to bring an easy meal to friends or family.
SPONSORED
Best Natural Fertilizer On Earth!
Chicken Soup for the Soil® is 100% toxin free and includes all the elements in the periodic table. Higher quality fruits and vegetables. Will not wash out of soil.
Do Insects Predict Weather?
How Insects Predict the Weather
Next time you see an insect, spider, or other "creepy-crawly," check out what it's doing! It could let you know something about the upcoming weather. Check out our weather proverbs and folklore about insects and other creatures.
Growing Peanuts
How to Grow Your Own Peanuts
Try growing peanuts in your garden! Often thought of as just a snack to be munched on, peanuts are actually a healthful and nutritious food.
Tick Removal Tool
The best tick remover is the one that is easy to carry and always with you! This safe tick removal tool attaches to key chains, leashes, and backpacks. Made in the USA from high-strength aluminum that won't break or bend. Sold as 3-pack for spares and sharing.
Why Raise Ducks?
Raising Ducks for Eggs
Ever thought about raising ducks for eggs in your backyard? Why raise ducks instead of (or, in addition to) chickens? Here are some reasons to consider.
Many Uses of Peanut Butter
Best Uses for Peanut Butter
Peanut butter sure is delicious, but did you know that it's useful, too? From shaving cream and leather polish to mousetrap bait, here are some of the best uses for peanut butter.