Pruning and shaping shrubs properly, 10 ways to celebrate mom, brunch ideas
This is an archived issue of our Almanac.com Companion email newsletter.
Daily Newsletter for Friday, May 10, 2019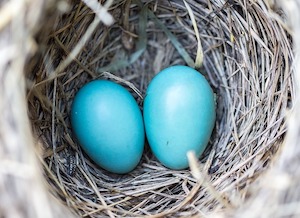 May is bee in blossom,
May is birds a-nesting,
May is picking violets on a hill;
May is young and twenty,
May is Sunday-besting,
May is eager Jack and willing Jill.
—The Old Farmer's Almanac, 1961
Friday, May 10, 2019
130th day of the year
Bono (singer) was born on this day in 1960.
David Riesman (author) died on this day in 2002.
10 Ways to Celebrate Mom
Mother's Day 2020 | 10 Ways to Celebrate Mom
In honor of Mother's Day, we've thought about 10 ways to celebrate moms and motherhood—from sharing a meal to giving flowers to making a card with special quotes and memories.
Try the Weed Spinner!
All you need is a drill and weeds and their roots are gone in one quick spin! The action is fun, fast, and satisfying! What's more, there's no kneeling, bending, or getting your hands dirty. Expect your neighbors to get curious and want to try the Weed Spinner, too. This back-saving drill bit was invented by retired school teacher Vern Ader and we thank him. 
Nana's Funny Cake
Nana's Funny Cake recipe
Nana's Funny Cake is the perfect dessert for a family gathering or weekend party. The pie crust adds a unique twist to a traditional cake recipe. This cake has a delicious chocolatey layer on the bottom and a crunchy chocolate layer on top.
Easy and Safe Tick Remover Tool (3-Pack)
The best tick remover is the one that is easy to carry and always with you! This safe tick removal tool attaches to key chains, leashes, and backpacks. Made in the USA from high-strength aluminum that won't break or bend. 
15 Mother's Day Recipes
Spring Brunch Recipes
Lemon pancakes, frittata, chocolate waffles, quiche? We've cooked up 15 brunch recipes for Mother's Day or any time. See our recipes and mouthwatering pictures!
All-Natural, DEET-Free Insect Repellent
The Old Farmer's Almanac name is on the bottle. If it doesn't effectively repel ticks, mosquitoes, blackflies, chiggers, and other biting bugs we will give you your money back!
Meaning Behind Flowers
Flower Meanings: The Language of Flowers
What does each flower symbolize? Which flowers represent love, hope, healing, loss, and good luck? See the Almanac's complete list of Flower Meanings and Plant Symbolism. Whether you are picking out a flower bouquet for a wedding, choosing a single flower for a loved one, or planting a garden, discover the secret language of flowers!