Time for tomatoes, attracting native bees, is weather lore true?
This is an archived issue of our Almanac.com Companion email newsletter.
Daily Newsletter for Tuesday, May 14, 2019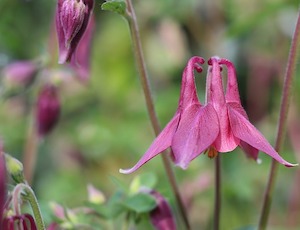 Among the changing months, May stands confest
The sweetest, and in fairest colours dressed!
Soft as the breeze that fans the smiling field;
Sweet as the breath that opening roses yield.
–James Thomson (1700–48)
Tomato Time!
Tomatoes
Our Growing Tomatoes Guide covers everything from planting through harvesting! Tomatoes are not hard to grow; they're incredibly productive, versatile in the kitchen, and so delicious off the vine. Our guide covers all the information you need to grow tomatoes successfully—including selecting tomato varieties, starting seeds, transplanting tomatoes outside, using tomato stakes and cages, and tomato plant care.
SPONSORED
Try Neptune's Harvest
"Tomato & Veg" AND "Rose & Flowering" Fertilizers are made from organic ingredients including Fish, Seaweed, Molasses, Yucca and Humate. All things expert growers like to use. Greatly increases yield and quality of all plants. (800) 259-4769 www.neptunesharvest.com
Native Bees Rule!
Native Bees: The Best Pollinators for Your Garden
The super-pollinators of the garden are … native bees! While honey bees have their place, it's our native solitary bees—such as mason bees and leafcutter bees—which are most vital to our flowers and food. Learn more about these amazing heroes of pollination—and see how to bring these docile bees to your garden.
What is the Flower Moon?
Full Moon for May 2020
May's full Moon rises on Thursday, May 7! This full Moon will be the last of the three supermoons to occur this year, so don't miss it! Here's everything you should know about this month's full moon, including how it got its name, "The Full Flower Moon."
Another Use for Rhubarb?
Lighten Your Hair with Rhubarb
Fading blond? Mousy brown? Bring on the rhubarb! Here's how to naturally lighten your hair using nothing but rhubarb and water.