Planting basil, home remedies for pets, amazing azaleas!
This is an archived issue of our Almanac.com Companion email newsletter.
Daily Newsletter for Wednesday, May 15, 2019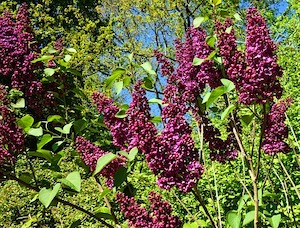 My lilac trees are old and tall;
I cannot reach their bloom at all.
They send their perfume over trees
And roofs and streets, to find the bees.
–Louise Driscoll (1875–1957)
Growing Basil
Basil
Basil is a warm-weather, fragrant herb that tastes great in many dishes—including the beloved homemade pesto! Plant seeds or transplants after all danger of frost has passed and soil is warm, and it will yield an abundant harvest within weeks. Keep harvesting the leaves to keep the plant going strong.
Amazing Azaleas
How to Grow Azaleas
Known as "The Royalty of the Garden," azaleas have long been adored for their brightly colored flowers and outstanding form and foliage. Here are a few tips for growing azaleas in your garden!
Large Wooden Matchboxes
Choose from many different bold designs! Each matchbox is about the size of a deck of playing cards and contains 50 wooden matches with color-coordinated tips.
Try a Rhubarb Julep
Rhubarb Julep
Make a Rhubarb Julep! It's a creative way to use fresh spring rhubarb—plus, it's something a little different for julep fans!
Chicken Coop Design
Chicken Coop Design Considerations
There is no one perfect chicken coop design for a small backyard flock, but whether you are building your own coop, repurposing a garden shed or kids' playhouse, or shopping for a pre-made structure, there are several things to look for and take into consideration when making your choice.
Home Remedies for Pets
Home Remedies for Pets
Here are some valuable home remedies for dogs and cats that can keep your pet happy and healthy. From getting rid of fleas to caring for dry skin, let's get those dog tails wagging and cats purring. 
Extra-Handy Lazy Susan
Spins effortlessly, won't tip, and holds a lot! Handcrafted in America by a 150-year-old basket company. Constructed with tough Appalachian white ash and brass nails.