What's special about May's Moon, growing corn, groundhog problems
This is an archived issue of our Almanac.com Companion email newsletter.
Daily Newsletter for Thursday, May 16, 2019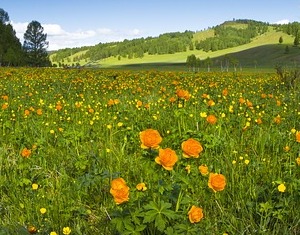 Come rambling awhile through this exquisite weather
Of days that are fleet to pass,
When the stem of the willow shoots out a green feather,
And buttercups burn in the grass!
–Edgar Fawcett (1847–1904)
Full Moon Rises Saturday
The "Blue Flower Moon" Rises This Weekend
The Full Flower Moon arrives this Saturday night, May 18. And while this one will be a very special full moon for a few reasons, which we'll get to in a minute, it's also an unusual Blue Moon. What does this all mean? Here's everything you need to know.
SPONSORED
Best Natural Fertilizer On Earth!
Chicken Soup for the Soil® is 100% toxin free and includes all the elements in the periodic table. Higher quality fruits and vegetables. Will not wash out of soil.
Trash Can Potatoes
Growing Potatoes in a Trash Can
View this video of a great gardening container for growing potatoes—and experience the fun of trash can gardening with Janice Stillman, Editor of The Old Farmer's Almanac.
Large Wooden Matchboxes
Choose from many different bold designs! Each matchbox is about the size of a deck of playing cards and contains 50 wooden matches with color-coordinated tips.
Groundhog Control
Groundhogs
Do you have trouble with these burrowing pests? Here are tips for identifying and getting rid of groundhogs in your yard and garden.
Extra-Handy Lazy Susan
Spins effortlessly, won't tip, and holds a lot! Handcrafted in America by a 150-year-old basket company. Constructed with tough Appalachian white ash and brass nails.