Full Flower Moon rises, ants on peonies, fascinating hummer facts
This is an archived issue of our Almanac.com Companion email newsletter.
Daily Newsletter for Friday, May 17, 2019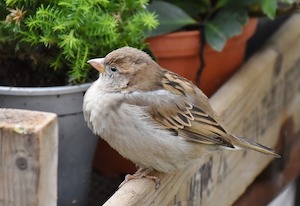 The birds around me hopped and played,
Their thoughts I cannot measure;
But the least motion which they made
It seemed a thrill of pleasure.
–William Wordsworth (1770–1850)
What is the Flower Moon?
Full Moon for May 2020
May's full Moon rises on Thursday, May 7! This full Moon will be the last of the three supermoons to occur this year, so don't miss it! Here's everything you should know about this month's full moon, including how it got its name, "The Full Flower Moon."
SPONSORED
Delicious, Nutritious Homegrown Sweet Potatoes
Tasty, easy to grow sweet potatoes are one the most nutritious vegetable commonly grown in home gardens, low in fat and sodium but high in fiber, potassium, manganese, vitamins A and C. Start growing your orange, purple or white sweet potatoes now!
Ants on Peonies
Ants on Peony Flowers: An Enduring Myth
Why are there ants on my peonies? Will ants harm my peonies? Every year, peony season brings these questions. Plus, we hear that enduring (but delightful) myth that ants need to "tickle the buds" to help peonies open. Peonies and ants do have a relationship but it's not quite what you may think.
Chicken Enchiladas
Easy Chicken Enchiladas
We love chicken enchiladas with cheese! They're our go-to meal to transform chicken into something fabulous!  Easy to make, easy to clean up, and always a winner.
Large Wooden Matchboxes
Choose from many different bold designs! Each matchbox is about the size of a deck of playing cards and contains 50 wooden matches with color-coordinated tips.
Fascinating Hummer Facts
Fascinating Hummingbird Facts
Among the most exciting spring migrants are the hummingbirds! These tiny, truly remarkable creatures are all-American birds. They exist only in South, Central, and North America—nowhere else in the world. Enjoy these fascinating hummingbird facts …
Keeping Birds Away
How to Keep Birds Away From Your Garden
Birds are a welcome addition to the garden, but if the crows are devouring your corn and the jays are eating your berries, here are a few ways to keep birds away from your garden.
Extra-Handy Lazy Susan
Spins effortlessly, won't tip, and holds a lot! Handcrafted in America by a 150-year-old basket company. Constructed with tough Appalachian white ash and brass nails.