Memorial Day: best time to travel, why the poppy's a symbol, patriotic cheesecake
This is an archived issue of our Almanac.com Companion email newsletter.
Daily Newsletter for Monday, May 27, 2019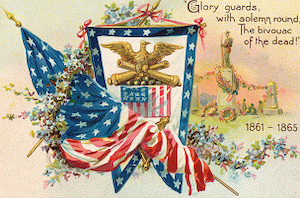 The muffled drum's sad roll has beat
The soldier's last tattoo;
No more on Life's parade shall meet
That brave and fallen few.
On Fame's eternal camping-ground
Their silent tents are spread,
And Glory guards, with solemn round,
The bivouac of the dead.
–Theodore O'Hara (1820–67)
Why Poppies are a Symbol
Memorial Day 2020
Memorial Day is Monday, May 25, 2020. Learn all about Memorial Day, including the true meaning of this day, how it differs from Veterans Day, and why the red poppy is a traditional symbol—with unexpected origins. 
5 Fast-Growing Plants
5 Fast-Growing Vegetables to Try
Here are five super-speedy vegetables for a harvest in just a few short weeks! Not only will growing a few edibles at home reduce trips to the grocery store, but also you'll also enjoy better-tasting, fresher food—and the tonic of the plants and the outdoors!  (Note: Full article text included with video demo.)
Dragonfly Wooden Night Lights
These highly intricate and detailed night lights were carved with a laser. The craftsmanship is outstanding. Each shade consists of 4 pieces of wood held together with interlocking finger joints. The best part is that the shade hides the bulb, even when viewed from the side. Made in the USA.
Controlling Slugs
Slugs and Snails
Seeing slug and snail damage in your garden? Here are tips on how to identify, control, and get rid of slugs and snails in the garden.
Candlestick Set of 5
This set of 5 candlesticks is made from real textile mill wooden bobbins. Most are between 50 and 100 years old! Add this charming display to your mantel or as part of your dining room tablescape today.
Patriotic Cheesecake Recipe
Red, White, and Blue Cheesecake
This festive Red, White, and Blue Cheesecake is the perfect dessert for celebrating any patriotic holiday.
Train Toothfairy Box
Makes a great gift for a young family. Made in Vermont from 100% lead-free pewter.
Boost Your Memory!
5 Tips to Improve Your Memory
Friedrich Wilhelm Nietzsche said, "The advantage of a bad memory is that one enjoys several times the same good things for the first time." If you don't want to prove his point, read on for ways to boost your memory!
Vern Ader's Weed Spinner
Finally, it's fun and easy to weed!  What's more, dandelions don't stand a chance!
The Weed Spinner is an innovative drill-driven weed removal bit that spins out weeds and their roots in one whirling motion.The action is fast and the result is very satisfying! What's more, there's no kneeling, bending, or getting your hands dirty.