Memorial Day: best time to travel, why the poppy's a symbol, patriotic cheesecake
This is an archived issue of our Almanac.com Companion email newsletter.
Daily Newsletter for Monday, May 27, 2019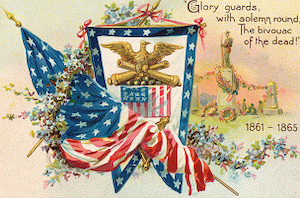 The muffled drum's sad roll has beat
The soldier's last tattoo;
No more on Life's parade shall meet
That brave and fallen few.
On Fame's eternal camping-ground
Their silent tents are spread,
And Glory guards, with solemn round,
The bivouac of the dead.
–Theodore O'Hara (1820–67)
Monday, May 27, 2019
147th day of the year
John Cheever (writer) was born on this day in 1912.
Paul Gleason (actor) died on this day in 2006.