Cutworms, poison ivy remedies, Shasta daisies, grilled eggplant
This is an archived issue of our Almanac.com Companion email newsletter.
Daily Newsletter for Friday, May 31, 2019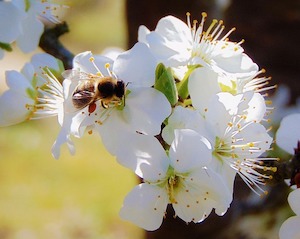 The glassy pear tree leaves and blooms, they brush
the descending blue; that blue is all in a rush
with richness; the racing lambs too have fair their fling.
–Gerard Manley Hopkins (1844–89)
Growing Shasta Daisies
Shasta Daisies
The cheerful Shasta daisy is a classic perennial. It looks similar to the familiar roadside daisy, but has larger and more robust blooms. Here's how to grow Shasta daisies in your garden!
Bold Kitchen Aprons
MOTHER'S DAY GIFT IDEA! There's always something cooking at The Old Farmer's Almanac. When it gets messy, we grab for one of these easy-care cotton aprons.
Kitchen Dish Towels
Discover our large selection of cotton dish towels with country and farmhouse style!
About Flash Floods
Flash Floods: Warning Signs and Staying Safe
Flash floods are the single deadliest storm-related weather hazard in the United States. Learn about what they are and what to watch for in case one affects your area.
Almanac Field to Fork Cookbook
A collection of more than 120 mouthwatering recipes from The Old Farmer's Almanac, plus kitchen tips and food facts and folklore. 
Stop That Itch!
Poison Ivy: Identifying and Treating Poison Ivy Rashes
Misconceptions about poison ivy have led desperate sufferers to adopt some pretty bizarre (and totally useless) cures. Here are some tried-and-true home remedies that can be helpful in treating poison ivy rash. But the best way to foil the itch is by minding the old saying, "Leaflets three, let it be."