Growing cucumbers, coriander vs. cilantro, mint chiller
This is an archived issue of our Almanac.com Companion email newsletter.
Daily Newsletter for Tuesday, June 11, 2019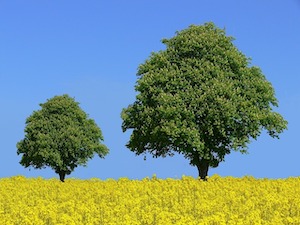 The Junes were free and full, driving through tiny
Roads, the mudguards brushing the cowparsley,
Through fields of mustard and under boldly embattled
Mays and chestnuts.
–Louis MacNeice (1907–63)
Tuesday, June 11, 2019
162nd day of the year
Hugh Laurie (actor) was born on this day in 1959.
David Brinkley (reporter and commentator whose NBC broadcasts from 1956-70 helped define and popularize television news in America. Brinkley hosted one of the earliest television news magazines, David Brinkley's Journal, in the early 1960s) died on this day in 2003.