Welcome July, Canada Day, weather predictions, birthstone and flowers
This is an archived issue of our Almanac.com Companion email newsletter.
Daily Newsletter for Monday, July 1, 2019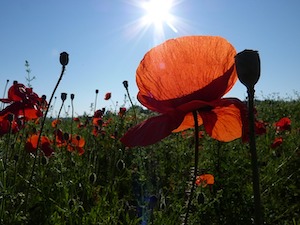 When the heat like a mist veil floats,
And poppies flame in the rye,
And the silver note in the streamlet's throat
Has softened almost to a sigh. It is July.
–Susan Hartley Swett (1860-1907)
Monday, July 1, 2019
182nd day of the year
Carl Lewis (athlete) was born on this day in 1961.
Mollie Sugden (actress) died on this day in 2009.
What's Happening in July?
The Month of July 2019: Holidays, Fun Facts, Folklore
July is the month when summer has a firm hold on all of us. The average temperature just about everywhere in the United States is above 70°F, and thunderstorms are nearly as abundant as ants at a picnic.
SPONSORED
Looking for American-Made Gifts?
Look no more, North Country Wind Bells® has been creating quality made wind bells in the state of Maine since 1975. With 6 collections, 64 melodies, and over 100 personalizing options, you can find that perfect American-made gift.
Canada Day July 1!
Canada Day 2020
O Canada! It's time to celebrate Canada Day! Learn the history behind this national holiday, celebrated each year on July 1.
Birth Flowers for July
July Birth Flowers
July's birth flowers are dramatic head-turners, one being the star of water features and the other capable of growing eight feet tall. 
Long-Range Predictions
Long-Range Weather Forecast
Since 1792, The Old Farmer's Almanac has been known for its traditionally 80 percent–accurate forecasts.
The 2020 Old Farmer's Almanac
Detailed weather forecasts for the entire U.S., gardening and growing, food and recipes, astronomy, tides, home remedies, trends, handy tips, history, plus lots of humor—what's not to like?