When to harvest!, pollinating squash, ice cream sandwiches, what is "DE"?
This is an archived issue of our Almanac.com Companion email newsletter.
Daily Newsletter for Thursday, July 11, 2019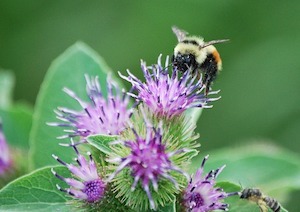 Black bees on the clover-heads drowsily clinging,
Where tall, feathered grasses and buttercups sway,
And all through the fields a white sprinkle of daisies,
Open-eyed at the setting of day.
–Abba Gould Woolson (1838–1921)
When to Harvest!
When to Harvest Vegetables and Fruit
How do you know when to harvest vegetables, fruit and herbs? Here's expert advice on how to pick vegetables and fruit at the peak of flavor. For example, zucchini is harvested when 6 to 8 inches long. Pick early and pick often! See our entire list of common crops and the harvesting criteria for judging whether your vegetables are ready for picking. 
What is "DE"?
What Is Diatomaceous Earth?
Gardeners are often given the advice to sprinkle diatomaceous earth (DE) around plants to deter pests. Unsurprisingly, we're often asked, "What is diatomaceous earth, exactly?" Well, here's your answer…
How to Pollinate Squash
Why Is My Squash Not Fruiting?
"What's wrong with my squash?" and "Why isn't my squash fruiting?" are two common squash questions. Often, these squash problems are related to a lack of pollinators. Here are the short answers, as well as a video to show you HOW to hand-pollinate a squash.
Healing Milkweed
Common Milkweed: Uses and Natural Remedies
Common milkweed has a long history as a natural remedy—and has many other uses, too! Plus, milkweed is the food of our beautiful monarch butterflies. Learn about this surprisingly useful native plant.
2020 Old Farmer's Almanac Online Edition
Detailed weather forecasts for the entire U.S., gardening and growing, food and recipes, astronomy, tides, home remedies, trends, handy tips, history, plus lots of humor—what's not to like?
A special website makes reading our Online Edition as easy as flipping the pages of a book. Features enlargeable type, zoom, search, printing pages, or saving as a PDF file to your device. It's the Almanac always at your fingertips. Plus, pay no shipping charges either!