When to harvest!, pollinating squash, ice cream sandwiches, what is "DE"?
This is an archived issue of our Almanac.com Companion email newsletter.
Daily Newsletter for Thursday, July 11, 2019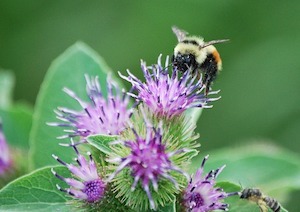 Black bees on the clover-heads drowsily clinging,
Where tall, feathered grasses and buttercups sway,
And all through the fields a white sprinkle of daisies,
Open-eyed at the setting of day.
–Abba Gould Woolson (1838–1921)
Thursday, July 11, 2019
192nd day of the year
Lisa Rinna (actress) was born on this day in 1963.
Lady Bird Johnson (U.S. First Lady) died on this day in 2007.