Pickling tips, Full Moon and partial eclipse tomorrow!, bugs we can't live without
This is an archived issue of our Almanac.com Companion email newsletter.
Daily Newsletter for Monday, July 15, 2019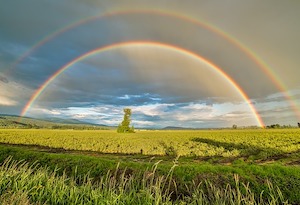 St. Swithin's Day if thou dost rain, For forty days it will remain.
St. Swithin's day if thou be fair, for forty days 'twill rain nae mair.
–Proverb
15 Pickling Tips
Pickling Tips and Recipes
Learn how to pickle! See our best pickling tips—plus, great pickling recipes from dill pickles to pickled peppers! Preserve the bounty of the season's harvest.
Yummy Blueberry Recipes
Fresh Blueberry Recipes
Did you know that July is National Blueberry Month? One of the healthiest foods on Earth, blueberries are delicious and versatile. We've gathered some recipes that are simple to prepare and mouth-watering to eat. So, harvest your own blueberries or search the farmers' market—it's blueberry time!
The 2020 Old Farmer's Almanac
Detailed weather forecasts for the entire U.S., gardening and growing, food and recipes, astronomy, tides, home remedies, trends, handy tips, history, plus lots of humor—what's not to like?  
Full Moon and Partial Eclipse!
Full Moon for July 2020
When is the Full Moon for July 2020?  Learn more about the Full Buck Moon—and why this July Moon is special.
Best Deer-Resistant Plants
Deer-Resistant Plants
Oh, dear! Do you have problems with deer eating your garden plants? See our list of deer-resistant plants, flowers, and shrubs to keep the hungry herds away from your garden!
Bugs We Can't Live Without
Beneficial Insects in the Garden
Here's a short list of great beneficial insects with pictures—and with tips on attracting these good bugs to your garden.
The 2020 Old Farmer's Almanac Engagement Calendar
A highly useful daily planner full of humor and useful advice. It's an indispensable tool for managing your life and keeping yourself organized. Includes plenty of room for jotting down appointments and notes.