Full Sturgeon Moon rises, the many uses of salt, preserving herbs
This is an archived issue of our Almanac.com Companion email newsletter.
Daily Newsletter for Tuesday, August 13, 2019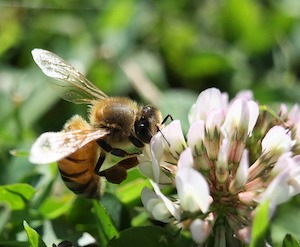 His labor is a chant,
His idleness a tune;
Oh, for a bee's experience
Of clovers and of noon!
–Emily Dickinson (1830–86)

Full Sturgeon Moon Rises
Full Moon for August 2020
August's full Sturgeon Moon reaches its peak on Monday, August 3, 2020. Learn how this month's full Moon got such a peculiar name!
How to Preserve Herbs
Preserving Herbs
Although I grow many herbs fresh in pots and in my greenhouse for year-round use, I also like to preserve an abundant supply for the long season when nothing grows outdoors. It's fun and not all that time-consuming. Home gardeners have several ways to preserve herbs for cooking and medicine. Here's how to dry and freeze herbs.
2020 Old Farmer's Almanac Online Edition
Detailed weather forecasts for the entire U.S., gardening and growing, food and recipes, astronomy, tides, home remedies, trends, handy tips, history, plus lots of humor—what's not to like?
A special website makes reading our Online Edition as easy as flipping the pages of a book. Features enlargeable type, zoom, search, printing pages, or saving as a PDF file to your device. It's the Almanac always at your fingertips. Plus, pay no shipping charges either!  
The Best Basil Pesto!
Basil Pesto
Serve pesto on fresh pasta, spread on a halved baguette and broiled, or as a pizza topping.
The 2020 Old Farmer's Almanac Engagement Calendar
A highly useful daily planner full of humor and useful advice. It's an indispensable tool for managing your life and keeping yourself organized. Includes plenty of room for jotting down appointments and notes.
The Many Uses of Salt
Household Uses of Salt
Salt certainly makes our food more flavorful, but it can also work to fix many of our unexpected challenges around the house. Here are some of our favorite household uses of salt.
About Gut Health
Improving Gut Health: You Are What Your Bacteria Eat
Trillions of "good" bacteria live inside our body. There's an entire ecosystem—or, microbiome—in our gut! And gut health matters; it's intertwined with our immune system, which is linked with diabetes, weight loss, and allergies. Learn more about gut health and how to take steps to keep those microbes healthy and happy!