What exactly IS the Harvest Moon?, pumpkins, plum crostata
This is an archived issue of our Almanac.com Companion email newsletter.
Daily Newsletter for Wednesday, September 11, 2019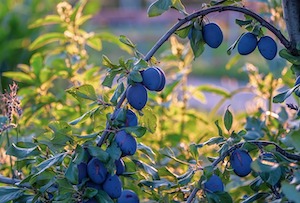 Take the fruit I give you, says the bending tree;
Nothing but a burden is it all to me.
Lighten ye my branches, let them toss in air.
Only leave me freedom, next year's load to bear.
–Lucy Larcom (1824–93)
September 11: Patriot Day (United States)
What is a Harvest Moon?
What Is the Harvest Moon?
In 2020, the Harvest Moon rises on Thursday, October 1! But what is the Harvest Moon and why is it so special? Learn more—and shine on, Harvest Moon!
SPONSORED
Interior & Exterior Quality Wood Shutters
Match or replace your old shutters or dress up your home with authentic wood shutters! Choose louvers, panels, battens, cutouts, arches and more. All types and sizes shipped nationwide. Colonial craftsmanship at affordable pricing - made in the USA.
Growing Raspberries
Raspberries
In a small space, raspberries yield a phenomenal quantity of ravishing berries—and they fruit year after year with proper care. Raspberries can be harvested all the way from midsummer through to the first frost. See our tips on how to plant, grow, harvest, and prune raspberries!
The 2020 Old Farmer's Almanac Engagement Calendar
A highly useful daily planner full of humor and useful advice. It's an indispensable tool for managing your life and keeping yourself organized. Includes plenty of room for jotting down appointments and notes.
Harvesting and Storing Apples
Harvesting and Storing Apples
When is the time is right to pick apples? And what do you do with a glut from a generous tree? Find out how and when to harvest apples and, crucially, how to store and process them so you can enjoy delicious fruits for many months to come.
Plum Crostata Recipe
Plum Crostata
A crostata is a free-form pie or tart that is baked on a baking sheet instead of in a pie plate.